Starting from August 12, 2013, the DHgate.com 9th anniversary sale will last through August 25. As a tradition, lots of rare deals will be released during this period to celebrate their birthday — it is definitely a super awesome money saving opportunity for buyers.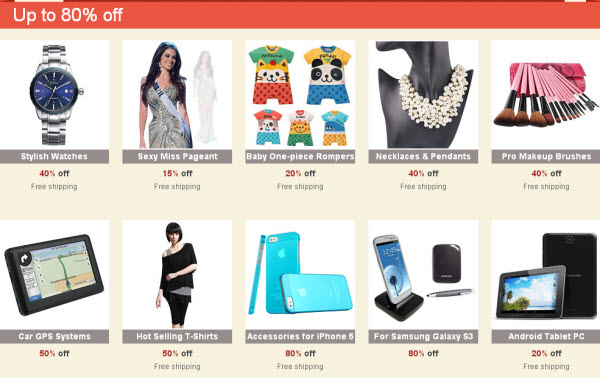 The DHgate 9th anniversary sale includes five major activities as follows:
Up to 80% off millions of products plus free shipping on select items;
90% off for Super Sale select items with hourly specials;
 Freebie giveaways for VIP members;
 Save 30% or more on top-selling Chinese brands;
Play Lucky Draw to win product prizes (First prize: Apple iMac MD096LL/A 27-inch desktop of the newest version; second prize: Samsung Galaxy S IV/S4 GT-I9500 factory unlocked phone – international version; third prize: Kindle Paperwhite 3G) or cash (US $2, US $5, US $10 or US $50). See details here >>
Unlike the recently listed company Lightinthebox.com, DHgate.com is not a supplier selling products with its own warehouse; instead, it is a trading platform, providing service for both buyers and sellers. Registered sellers can build stores there and sell products through its online shopping system and registered buyers can buy what they want through the website under the payment escrow service offered by DHgate.com. The payment you made to the seller through its check out system will actually go to the official account of DHgate.com first. After the transaction is confirmed successful, the payment will be released to the seller. On the other hand, if a dispute happens, you should submit a dispute also through your DHgate account and do everything based on the DHgate dispute policies and guidelines. Then its resolution centre will take care of your case.
For this reason, shopping at websites like DHgate.com should use extreme caution and keep all evidence related to the transaction as much as possible, e.g. the communication record between you and the seller or photos of videos of how the item looks when you receive it. Risks exist but if you know the rules well before you place the order, everything will be just fine. Thinking that it is very likely to find the best deals on the products you want there, the site is highly worth a try.