I noticed that Priceangels.com had launched their 2013 Valentine's Day sale by offering a 10% off coupon on select Valentine's Day gifts, including cell phones, tablet PCs, intimate stuff, watches & jewelry, consumer electronics, home living products and gift & lifestyle gadgets. The promotional collection has 32 items in total – not a wide collection, but every item looks attractive for gifting.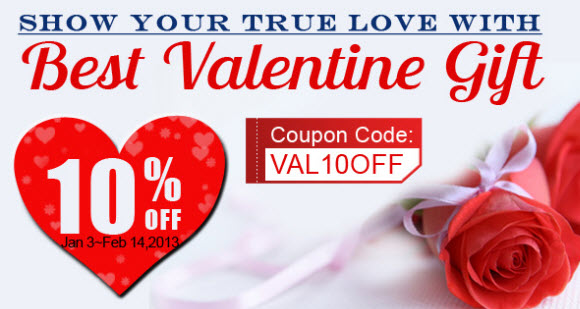 To enjoy the discount, you just need to input the coupon code "VAL10OFF" at checkout and then you will get 10% off the original price instantly. The sale will last from Feb. 3 through Feb. 14. Note that the Chinese international shipping cab be delayed as the Chinese Spring Festival is approaching so you may need to confirm on the exact delivery time with their service people if you do need the gift for the Valentine's. Otherwise your plan for a romantic Valentine's may be ruined because of the delayed gift.
Like other Chinese international shops, Priceangels.com releases the Valentine's Day deals simply to seize the holiday event to boost their sales, not necessarily to really benefit customers who are looking for gifts for that holiday. As a result they may not be able to guarantee that the gifts can arrive in time for the holiday. On the other hand, if you see a product you love there at a price you are pleased with, but not for the Valentine's Day, you are encouraged to take advantage of the sale anyway.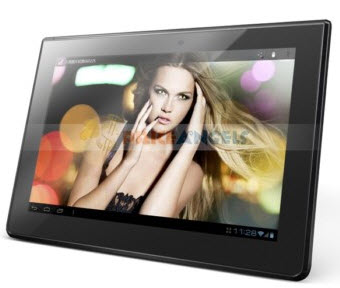 By the way, in addition to providing free shipping to destinations around the world, the site offers better prices for larger quantities. If you order 3 pieces or more for a single item, you will get a lower unit price. For instance, the Ramos quad-core Android 4.0 tablet PC as shown in the right image is priced at $282.19 while it is at $271.36, $269.19 and $267.02 for orders of 3 pieces plus, 5 pieces plus and 10 pieces plus respectively. This item is also included in their 2013 Valentine's Day promotion so the prices can be further reduced by 10% if you purchase it before the sale ends.
Priceangels.com is one of the Chinese electronic stores I personally have great interest in. I am often impressed by the lovely products they offer and also by the user-friendly interface of their shopping site. There it is easy to find high resell-margin or hot-selling products that can help merchants boost their revenues. At the same time, it is a good site to shop stuff for personal needs too, especially cool gadgets. You will get what you like at prices which are highly affordable – you don't have to worry that your wallet will be embarrassed when shopping there. Buying what we love at a price we are happy with is always a pleasant experience, isn't it? Besides Priceangels.com, I also love Focalprice.com and Dealextreme.com. The tree sites are the best in my personal list of professional China-based online electronic gadgets shopping websites.
For more 2013 Valentine's Day specials offered by other Chinese sites, please read here.
Leave a Reply