The 2013 Valentine's Day is only two weeks ahead. Are you still scratching about for an amazing Valentine's Day gift for your beloved? If you haven't got any good idea yet, why not try checking out the shopping sites for inspiration? This is how I usually do. When I am not sure about what to gift people I love for a particular holiday or a special day, I browse the gift collections of popular online shops to get myself inspired and the point is: it always does work!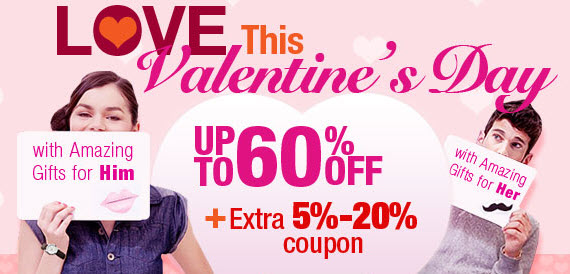 Image courtesy of Dinodirect.com
Since we are a review website targeting the Chinese international wholesale and retail markets, below I will share the information on 2013 Valentine's Day deals offered by Chinese stores only. For those looking for decent gifts for the loving holiday at low prices, shopping with a Chinese online store directly may be a smart idea, especially if you take advantage of their promotions for the Valentine's Day. Here are the deals I've found from Chinese sites:
I would like to remind you that as the Chinese New Year (falls on February 9 this year) comes soon, many international logistic companies are extremely busy and will be on holiday from Feb. 9 to Feb. Feb. 15 – some may start their holiday earlier or end later. As a result, orders may be delayed in shipment during this period. Make sure to confirm with the stores on whether the orders can arrive in time for the Valentine's Day or not before you place an order. You know, the gift must be very important to you as you are going to send it to the man or woman you love so much and you can't afford to get it delayed, can you?
On the other hand, the deals are also a good opportunity for gift re-sellers who are hunting for high-margin products for their business, not necessarily for the Valentine's Day. Based on my research, this year the most widely sought-after Valentine's Day gifts cover the following categories:
For her

: jewelry, watches, fashion, scarves, electronic gadgets & accessories, shoes, bags, home & garden, health & beauty and more.

For him

: camping & hiking, electronics & accessories, computers & networking, toys & hobbies, clothing, shoes, bags, ties, jewelry, watches and more.
Many products on sale for the Valentine's Day 2013 are now offered with rare discounts. You can stock up on those you believe will be hot-selling as other gifts instead of Valentine's Day gifts only.  They may help you make great profits! And the good thing is: even if your orders are slightly delayed due to the Chinese New Year holiday, it would not be a big problem for you as you are not purchasing them just to catch up with the Valentine's Day. Of course, if they arrive early enough, they may still be able to help you make money from the Valentine's of this year.
Leave a Reply