The Chinese New Year 2011 (or Chinese Lunar New Year 2011) will land on February 3, 2011. Traditionally, it's a great opportunity to save money as a lot of Chinese New Year 2011 deals will be launched during the shopping season. For Chinese people, Chinese New Year is the biggest festival of the year, just like what Christmas means to Western people. Generally, they will enjoy a 7-day holiday to celebrate the festival with their family.
Every year, when the last month of the lunar year comes, people there start to go shopping for the New Year celebration. At the same time, stores online or offline launch the biggest special offers to boost their revenue. Merchants know well that the Chinese New Year is the best opportunity to make money – only during this big shopping period, will all most all Chinese people leave their wallets wide open.
Likewise, some China-based international shopping websites would offer a series of great deals for their global buyers. So if you are interested in buying stuff from China, you gotta seize the chance to save big on your shopping. As a tradition, these stores would start their Chinese New Year promotions two or three weeks ahead the festival. Below are some of the popular China shopping websites for international buyers. When the time is due, you're encouraged to check their homepages or newsletters to see if any Chinese New Year 2011 deals are available.
Lightinthebox.com
Location: Beijing, China
Rating: 5-star
Business Type: B2B & B2C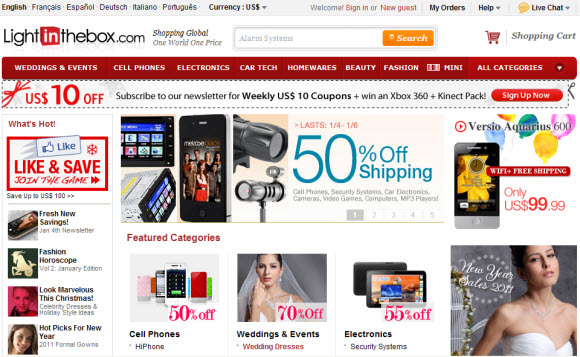 Continue reading Chinese New Year 2011 Deals for Global Buyers