I often see comments left at my site questioning with anxiety why the addresses the Chinese sites use to send their orders are different from their office addresses introduced at my site. They were wondering if they had encountered a scammer and asking for my help to confirm on the real facts. Actually many China-based international shopping sites have their own warehouses in the destination countries or regions – the most common places are the United States, the UK and Hong Kong.
Focalprice.com, the online electronics store whose office is in Shenzhen, China, have a warehouse based in Manchester, the United Kingdom. Their UK warehouse has a rather independent shopping system with an exclusive domain name Mixwall.co.uk. You can find the access to the UK shopping site at the left navigation area of their main site homepage. If you want to shop with their UK warehouse, you need to create an account at the Mixwall.co.uk first. It seems you can't use your Focalprice account to place an order at the UK site. I don't understand why. Maybe they are doing this for better management. But honestly, I personally don't think it good for user experience, how about you?
The UK channel of Focalprice.com do not carry as many categories as the main site do. Anyway, it does have quite a wide range of products across Apple accessories, cell phones, home & outdoor, toys & hobbies and electronics. Free shipping is available sitewide so you don't have to worry about the shipping fee. Besides UK, Mixwall.co.uk also ship to other countries or regions of the whole Europe including Russia. This means US customers or buyers from other continents are not allowed to order with the site.

As all the products are already stocked in the UK warehouse, it takes only 2-5 business days for the orders to arrive at the destinations based on the shipping method you choose. For Royal mail & Register Royal mail, the site guarantee that the orders will arrive within 3 working days including Saturday; for Next Day Delivery, they promise the package will be delivered to your door before 10 p.m. on the next working day.
As for customer service, they can be reached by live chat, email, Facebook page or Twitter account. I've tested on how fast they respond to customers' questions or needs and found that although they claim they offer 24/7 live help, their live chat service is not really working all the time. I always got the prompt saying that "Online Support is currently not available". Anyway, I did get a response by email within 6 hours as they have promised.
In addition to the much shorter delivery time compared to their China-based shopping site, I guess you might be also interested in the pricing difference. I picked some typical products from both sites and did some comparisons. Not surprisingly, the products for sale at Mixwall.co.uk are slightly cheaper than those at Focalprice.com. For instance, the portable sewing machine (as shown in the right image) is priced at £2.13 at Mixwall.co.uk while at £3.12 (=$4.69) at Focalprice.com.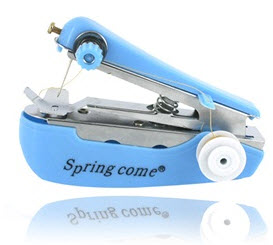 Based on my findings, like Focalprice.com, most Chinese shopping websites tend to offer lower prices on products stocked in their overseas warehouses. This makes senses as the cost has been reduced by shipping the products to the warehouses through much cheaper shipping methods such as ocean shipping, which usually take a long time for the goods to arrive at the warehouses. The good thing is, as a customer you don't have to wait the long time for your order to reach your door – when you place an order, the product is already in the warehouse and it will be dispatched within 24 hours.
The other upside to shopping with the overseas warehouses of Chinese sites is that the after-sales service is generally more efficient. If you need to exchange or return an item, you will get it handled in a much quicker way as the shipping time for the returns is significantly shorten.
By the way, I will introduce more overseas warehouses owned by Chinese shopping websites in the future. If you are interested in, just check back regularly here for the updates.
For more detailed information about the Chinese electronic gadget store Focalprice.com, please read here.
Leave a Reply