Party dresses or special occasion dresses are one of the hottest categories at Milanoo.com, which focuses on selling fashion products to global buyers. The Chinese shopping site offers discounts for all kinds of party dresses very frequently. Especially when a certain holiday shopping season comes, they often launch promotions with bigger discounts.
Now as the 2012 Christmas is approaching, the site update their special offers even more frequently and some limited-time offers are definitely worth checking out. In particular, they are currently giving a 15% off discount on a selection of dresses that fit various parties.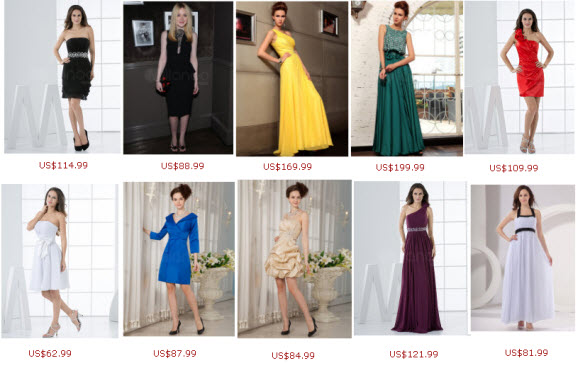 As shown above, the prices displayed are already reduced by the discount, ranging from $32.99 to $199.99. As part of their Christmas sales, free shipping is honored when your order value reaches $99.
If you are interested in purchasing discounted evening dresses, discounted prom dresses, discounted homecoming dresses or discounted cocktail dresses from Milanoo.com or from China, you may find a good deal from this promotional collection.
However, by suggesting you take a look at this sale, I don't mean that they are the best deals there. If you can wait, you are encouraged to visit the site often in order to stay tuned with better deals on the same or similar items. Now Black Friday has gone, but they will also offer deeper discounts one or two weeks ahead of 25 December, 2012, the Christmas Day. Also, their Daily Madness zone may provide a better discount for the dress you like. But chances are the discount scope will be quite limited compared with the current one. Milanoo.com is well known for extremely low prices so it is impossible for them to offer huge discounts. You know, they run the business to make profits, not simply to benefit customers – they are not a charity, lol.
Note that the sale lasts through November 30 only.
4 Responses to "Milanoo Latest Offers: A 15% off Discount for Party Dresses"
Leave a Reply