The 2012 Cyber Monday has just gone but the fever of shopping from Chinese sites is still heating up. You know, Black Friday (three days prior to Cyber Monday) marks the beginning of Christmas shopping season. Buyers from all over the world are busy hunting for best deals for their Christmas inventory or their personal Christmas plans. What is interesting to mention regarding the Chinese online foreign trade industry is that the number of buyers from Russia boosts this year.
I've noticed this piece of news for quite a long time. Months ago I read a report published by a famous Chinese e-commerce expert who emphasized that the shopping site she led was attracting much more Russian buyers in the past months.
On November 26 – the 2012 Cyber Monay, Aliexpress.com launched a huge sale with 50% off all products, which lasted for one day only (till November 30 you can still take advantage of their 50% off huge sale on select items). One of my former colleagues, who now works for Aliexpress.com, posted a message at Weibo (Chinese Twitter), cheering with her current team that in the first three hours, the number of Russian buyers increased by 28 times on a year-on-year basis. Besides, she also claimed that Russian buyers had become their biggest customer source that day. This sign should have inspired many Chinese foreign traders as in the past the international trade market of China was long dominated by buyers from American or other European countries or regions like the Great Britain or France.

My friend John is a small seller of Aliexpress.com, offering men's underwear there as his part-time job. He told me he had received around one hundred orders on Cyber Monday and the majority is placed by Russian buyers.
While the vigorous development of Russian economy can be a great impetus that pushes their importing business with Chinese online suppliers, the robust progress China is making in the field of e-commerce technology and international trade is also a key driving force. Just let us take Aliexpress.com as a typical example. Backed by Alibaba.com, the site has quickly grabbed a big share from the global market in just two years. This is not surprising for people who are working in the Chinese foreign trade industry. The company is empowered by the best e-commerce technology, resources and popularity among Chinese sellers as well as global buyers. And what's more importantly, they have the top e-commerce talents. For these reasons, they are able to develop an easy-to-use shopping site for their users in a short time and keep upgrading it to make it more and more user-friendly.
However, like most transaction platform connecting suppliers and buyers, Aliexpress.com has some disadvantages that you may need to pay particular attention to when you decide to shop there:
1. They do not support Paypal. For some reason they have terminated their cooperation with Paypal last year. Currently they only accept payments by Moneybookers, Visa, MasterCard, bank transfer and some select debit cards. Payments will go to the Aliexpress account first before transactions are confirmed successful. When dispute is incurred, do remember to open a dispute in time for a fair solution.
2. You may encounter dishonest sellers there or even get scammed. Despite the fact that the site verifies the qualifications of each seller before he or she can list and sell items there, some well disguised scammers may exist. Some bad sellers may sell you poorly-made products or provide you with unprofessional service. You need to do research as much as possible in order to avoid such risks. Their feedback profile, especially the real customer reviews left for them, is highly worth reading.
3. Under the site's buyer protection system, when a dispute occurs, you may have to wait a long and painful timeframe for a final solution. Unless it is clearly the case that you never receive any goods from the seller, you may have to provide a lot of supportive evidence to help the Aliexpress rule the case in your favor (see their dispute and refund polices here). That is probably why some buyers claim that Aliexpress.com side by sellers – I guess they did not get a satisfactory solution finally.
DHgate.com, another famous Chinese international trading platform, has the same problems. Comparatively, well-known China-based shopping sites like Lightinthebox.com, Dinodirect.com, Milanoo.com or Focalprice.com have much less negative reviews as they have full control over product quality and customer service. They have their own warehouses and ship items by their own staff instead of their sellers or manufacturers. Besides, they handle all pre-sales and after-sales problems by themselves.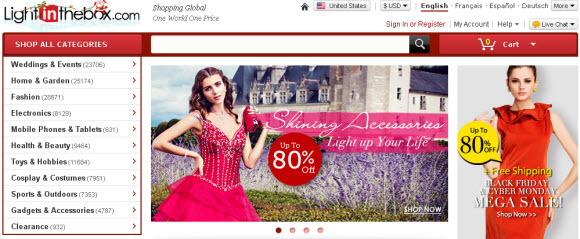 Whether you are a Russian buyer or a shopper from any other country, you are always encouraged to use bigger and more reputable sites to shop for reasonably priced made-in-China products. Nevertheless, no matter which Chinese site you are interested in, do remember to choose a safe payment option to minimize the risk.
Leave a Reply