Each year Aliexpress.com hosts its shopping once-in-a-year shopping festival with deep discount and this year the festival will be celebrated on March 25. The ads for the great shopping event of the trading website have been posted everywhere and people can already preview the deals at the official website. With up to 90% off on a huge variety of products covering all categories, the Aliexpress.com shopping festival is definitely an awesome opportunity to get top deals.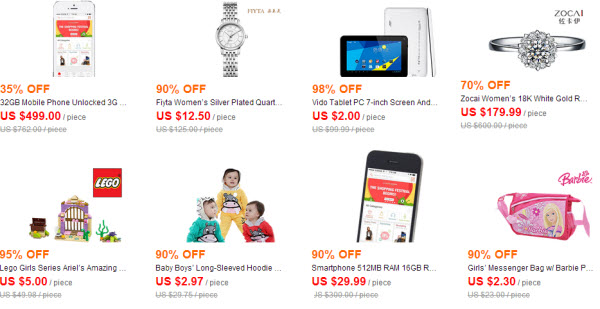 On the Aliexpress.com shopping festival sale page, now you can preview the final prices for all deals, which will be available on March 25. As usual, a great number of premium sellers are invited to join this promotion and buyers can choose from a wide array of best-selling select products at the best prices. If you seize this opportunity to buy things with Aliexpress.com sellers, in addition to enjoying lower costs, you are more likely to get better quality products. The major categories selected for the grand sale include women's fashion and accessories, men's clothing and accessories, baby & kids, beauty, sports, wedding and home.  Preview the deals >>
Furthermore, the site launches a Go to the FIFA World Cup for Free promotional campaign by cooperating with VISA. On the day of Aliexpress shopping festival (on March from 00:00 to 13:59 PST), if your order value reaches the top 3 at the whole site and you pay via Visa, you will be honored with the reward of a 2014 FIFA World Cup Tournament package, which includes 4-day-and 3-night 4-star double hotel occupancy in Sao Paulo for two guests, free match tickets, Visa FIFA-themed merchandise and more. It is estimated that each reward package is worth $9500. For details, please click here.
Leave a Reply