Before I discovered Mehair.com, I always recommend DHgate.com and Aliexpress.com as the best online destinations to shop for cheap made-in-China human hair extensions, hair wigs and related hair products. Nevertheless, as the two sites are virtual supermarkets selling everything, I am trying to find out a trusted online store which focuses on this category of products and Mehair.com is my first finding.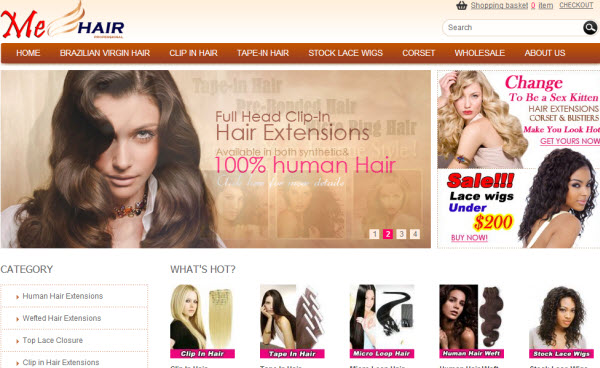 Be honest, Mehair.com is the only professional online retail and wholesale supplier of hair related products on my personal list so far. As I mentioned above, other reliable shopping sites to buy quality human hair products include DHgate.com and Aliexpress.com but they are quite different from Mehair.com. The two sites are trading platforms where you can find various sellers selling hair wigs, hair extensions and other hair products and the quality is not so controllable. Unlike such sites, Mehair.com is itself a manufacturer and a seller, who has gain years of experience in making quality hair products and is able to offer customers the lowest prices possible. The site has its own quality verification system and can better ensure that the hair products are quality tested.
I have to admit that I don't think Mehair.com is doing well in the field of website layout, banner design, navigation set-up and presentation of deals. It seems they are still quite young in operating their own online shopping site though they claim that they have been manufacturing hair products since 1998. I guess they used to sell their products through other online channels such as eBay.com or DHgate.com since they look very experienced and professional in describing and selling their products. I love their product descriptions, which are clear, compact and easy to understand. Besides, the checkout system works pretty well and customers are guided to choosing the right length and color of hair products during checkout without any confusion.
Based on my research, Mehair.com is a legitimate China-based online shop of human hair extensions, wefted hair extensions, top lace closure, synthetic hair extensions and all kinds of hair accessories. The huge selection of hair-related products offered by them comes from their own factory and warehouse. For this reason, their prices are very competitive. Hair products are definitely the very backbone of the store though you can also find a few corsets and bustiers there.
The hair product store accepts Paypal, Western Union and T/T or bank transfer for payment. I would encourage you to use Paypal for safety, especially if you never trade with them before. For better savings, you can use the latest Mehair coupon codes when you place an order. Please make sure the code is still valid when applying it to your order at Mehair.com.