When we noticed the Lightinthebox runway show for 2011 Spring/Summer Collection of Wedding Dresses & Formal Gowns, we knew Lightinthebox had moved one step forward again. As a premier Internet supplier of high-end fashion products including all kinds of special occasion dresses, Lightinthebox is getting more and more professional in terms of product line and service range and quality.
Lightinthebox.com started to hire its own team of fashion designers long ago. When you browse the Chinese job hunting websites, you will find that the international online store has been recruiting professional designers all year long. At the same time, the company has created a studio and cooperates with a number of pretty Western models to showcase its fashion items on its website on a long-term base. That's why most product images posted on Lightinthebox.com are printed with a label indicating that they are shot by the Lightinthebox studio and are protected by intellectual property rights.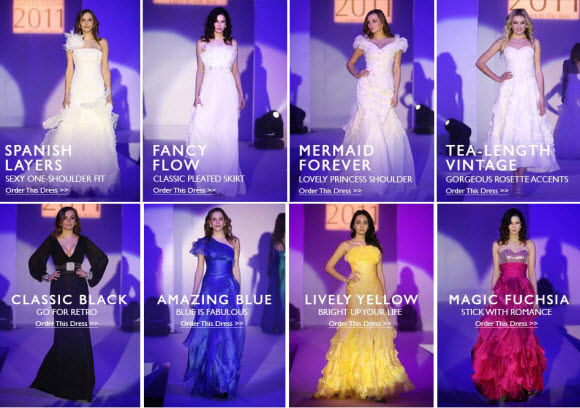 By developing a unique product line completely designed, manufactured and showcased by an internal and expert team of designers, dressmakers and models, Lightinthebox seems to create its own brand in the field of the world's affordable high fashion. This time, the firm even launched its own runway shows to impress global buyers. We wonder maybe one day we will see the Lightinthebox trademark appear on the clothing tags?
The LightInTheBox runway show for the collection of 2011 Spring / Summer Wedding Dresses & Formal Gowns include the latest trends in wedding dresses and formal dresses that are meant to make an edge this spring and summer. All these dresses are the best of the best products offered by Lightinthebox and made in high quality fabrics by skillful craftsmanship. The designs and styles are all perfectly gorgeous. The prices for the runway dresses range from $60-$300 only – this means you can get designer dresses on a happy budget.
To view details about the LightInTheBox runway show for the collection of 2011 Spring / Summer Wedding Dresses & Formal Gowns, click the image below (a video for the runway show is also included). Just feast your eyes on the beautiful runway collection now!

Tag: Lightinthebox Wedding Dresses
Leave a Reply