If you buy regularly from Lightinthebox.com, you may have noticed that Lightinthebox free shipping deals are not so extensively released. Instead, the popular online store offers discounts on expedite shipping very frequently, though usually for a limited time only or based on a threshold order amount. However, Lightinthebox does offer free shipping from time to time as a promotional incentive and in the middle of the site there is an exclusive zone for all free shipping deals.
The "Free Shipping" zone of Lightinthebox.com carries a huge selection of products that are labeled with the icon "Free Shipping Available". When you enter the "Free Shipping" page, you will be shown with a small list of recommended products that come with free shipping, most of which are electronic gadgets or accessories.
Also, you can use the navigation panel on the left to explore more Lightinthebox free shipping deals. Specifically, the panel includes free shipping cell phones, free shipping computers, free shipping car DVD players, free shipping MP3 players, free shipping clothing & apparel, free shipping jewelry, free shipping electronics, free shipping video games, free shipping sports & outdoor products, free shipping home & garden products, free shipping health & beauty products, free shipping toys & hobbies and free shipping gifts & party supplies. Just click any of the sub-category to find out the free shipping deals on the items you are interested in.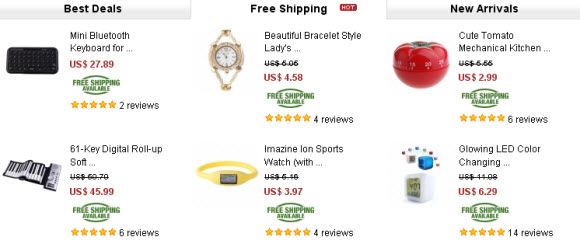 Basically, LightInTheBox.com adds every free shipping deal into the zone so if you want to find out any LightInTheBox free shipping deals are available, go check or search the zone. The latest free shipping deals are displayed on the middle part of the homepage (see the image above). However, you should note that most of the free shipping deals last for a limited-time only and once you find a desired deal there, you may need to grab it in time. Otherwise it may slip away from your finger.
One Response to "How to Explore LightInTheBox Free Shipping Deals"
RC Air Swimmer Flying Shark Review Says:
December 7th, 2011 at 6:03 am

[…] at $34.99 after discount. If you purchase in bulk, you will get a better price: $34.99 per piece. Free shipping is available worldwide by China Post air mail. You are also encouraged to negotiate an even lower […]
Leave a Reply