This post is composed as a response to a comment left by a user of our site, who argued that he couldn't understand why the reviews we posted for Chinese shopping sites here are mostly positive or neutral. As he claimed, he had an unhappy shopping experience with Aliexpress.com and he believes the site is not genuine as we review. To help more readers understand how we rate the Chinese online wholesalers or retailers, I think it necessary to make the points clearly disclosed so that you can have a better decision.
Hi XXX (name hided to protect our user's private information),
Glad to see that you come back again to share your comment here. With regard to the doubts you shed on us, we admit that as a review website we are not perfect and have so much to improve. Thank you for your valuable suggestion.
It is true the reviews we post here of the Chinese sites are basically positive or neutral. The major reasons are as follows:
1) Although we are trying to post reviews of as many Chinese shopping sites as possible, we can't do the job now as we have planned because we are short of manpower – 99% of articles published here are written by one author only.
As a result, we put the sites we believe are better in terms of credibility and service at the top priority. While we understand that all these sites also have much to improve and negative reviews against them can be found easily on the Internet, we also know that they have tons of happy customers who have been trading with them for years. We emphasize the good sides of these stores or marketplaces simply because we are ourselves Chinese and it is our mission to popularize and promote better Chinese sites to the world. However, we never intend to overstate their advantages or spread any fake information.
All information we revealed here about them is based on our research and knowledge. To dig out information that can add values to our readers, we read Chinese newspapers, visit Chinese forums or social networking sites and communicate with Chinese friends who are working for the companies. We have good reason to say that Aliexpress.com is a legitimate and genuine site: they belong to Alibaba.com, the most famous and biggest e-commerce company in China, all foreign trade people here know this site. In fact, many e-commerce talents jump from other companies in order to join them for better career development, including a good number of my old colleges who like me worked for another famous wholesale trading platform before.
In addition, their site visits and customer quantity have been soaring since they were founded in 2010. You can search Alexa or Google trend to check their website ranking or interest trend (see the graphs below). As a young site they are developing very, very fast. I think this at least well proves that they are a serious business, not a scammer. They have defeated many powerful Chinese competitors in a short time. So despite that they do have flaws, can we say they are not genuine? Certainly we can't.
Aliexpress.com's three-month global traffic rank is 279! This shows the site has a large number of visits. Only big and legitimate sites are able to attract so many visits. See details here >>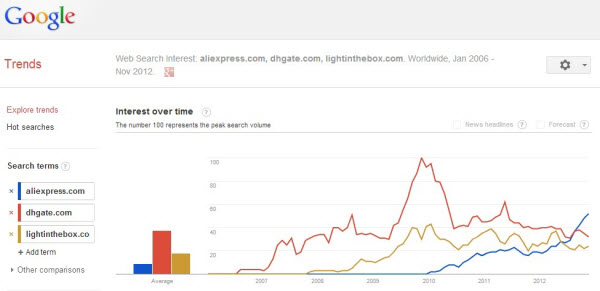 From the web search interest comparison between Aliexpress.com, DHgate.com and Lightinthebox.com, the most famous Chinese international shopping sites, we can see that though Aliexpress.com is founded years later than either of the two sites, its search interest quickly leaps to the highest in 2012 (see details here). What does it mean?
Anyway, what you criticized us is to the point. It can be quite misleading if we just talk about how good they are. We have gradually realized this problem too. We approve reviews of any type as we believe reviews posted by others (especially real customers) can be a good complement to our own reviews. Besides, we do mention the imperfections of the sites in the reviews, don't we?
2) People tend to vent their anger after encountering an unpleasant shopping experience by posting bad reviews online. On the contrary, those who have got wonderful shopping experience are not likely to write any reviews unless they can receive any benefits. You know why the shopping websites have so many good customer reviews? Many people think they are fake reviews created by their own. Based on my working experience, they are not. In most cases, online stores use incentives to attract their customers to leave favorable reviews or feedback for them, e.g. coupons or discounts for future purchases. Of course, only those who really had good shopping experience would give them positive or neutral reviews. At the same time, there are some 100% genuine good reviews posted by customers who want to thank the sellers for the good products or services by rating them based on the facts. However, this group of customers seldom spread the word about the good suppliers or shopping sites at third-party review websites.
For this reason, when we search for reviews for any Chinese retail or wholesale site, we will see that bad reviews against them are overwhelming at most review or rating websites. It is unfair. People who never shop from China will probably be scared away. As a result some good sites can be defamed and missed out. To separate us from other review websites, we decide to focus on discussing about the upside of the Chinese online suppliers whiling leaving commenting function open to real customers to share about their own viewpoints or shopping experiences. Of course, we do not give positive reviews for any Chinese supplier blindly. Instead, we do a lot of research and choose the better ones with an aim to help global buyers know the better Chinese suppliers they can choose from. Meanwhile, as I mentioned above, we are also considering reviewing the badly rated sites in order to warn buyers when we can spare the time and resources to do so.
8 Responses to "How Do We Review Chinese Shopping Sites Here?"
Leave a Reply