Chinese online international shopping sites have been emerging quickly since 2006. Especially in recent years, more and more resellers around the world choose to stock up on products from China based online wholesale stores or marketplaces for their businesses.
Years ago, merchants have to visit Chinese marketplaces or trade shows in order to find out shoes with high re-sale margin. Besides, they have to order a significantly large number of shoes for a single order as required. Now the situation has been completely changed by the fast development of foreign trade e-commerce. Whether you own a big shoes shop or just a small or medium-sized one, you can purchase shoes from China on the Internet with less cost.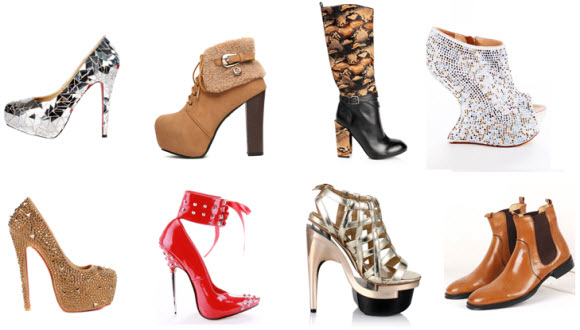 Shoes for Women and Men for Sale at Milanoo.com
For Chinese suppliers of shoes, they are facing the same change. Rose, one of my good friends, had run a store in a "city of shoes" that targets global buyers in Guangzhou, the capital of Guangdong Province for years. Two years ago, she had to shut up the stores because it is too tough for her to continue running the business. Orders are getting less and less but she has to pay a rent of more than 20,000 RMB (about 3,000 USD) for the store every month. After she stopped her own shoes foreign trade business, she joint a company that sells shoes to international buyers online and earns big commissions from the transactions she handles. She told me that she would never consider opening a store on her own again as the pressure is too much but the payback is too little – actually she lost a significant amount of money when she was the boss of the physical shoes shop.
However, like the two sides of a coin, shopping for made-in-China shoes online is not all about advantages. To help you make a better choice about how you buy cheap shoes from Chinese suppliers, below I will list the pros and cons of ordering shoes online.
Pros
1. The cost is much less. You don't need to pay for the journeys to China. Plus, online suppliers tend to offer lower prices for the same shoes as their cost of running their business is likewise not so high.
2. It is more likely to find out trendy styles that are hot-selling on the market. Generally, you can see the quantities of the shoes sold displayed on the product description pages so that you can measure the popularity of the styles.
3. You have more styles to choose from. While dozens or hundreds of shoes stores locating in a physical market offer only a limited number of styles and you have to scour the stores one by one to hunt for the best ones, the countless online Chinese shoes stores have numerous styles listed on the internet. Just by browsing the catalogs and products showcased on the sites, you will be able to see all details of the shoes, including images, prices, shipping fees, materials, MOQ (minimum order quantity) and all other related information you may want to know.
4. You can order shoes you want in a much more flexible way. In addition to specifying details of products, most shopping websites also offer real-time customer service so that you can contact them via live chat or phone call to confirm on any details or to negotiate for a better price. Unlike the traditional trading model, online suppliers do not necessarily require a large MOQ. In practice, many online stores only require a very small MOQ, as small as I piece per order only. Furthermore, they allow you to mix orders for a single order. This means you can order different shoes from different sellers in small quantities and free yourself from the pressure of keeping a large inventory.
Cons
1. It is sometimes not easy to confirm on the fitting of the shoes by looking at the product images only. The regular sizes are not a problem but the specific fitting may vary significantly or slightly from how they look. Similarly, it is hard to tell how they feel when wearing them.
2. Online transactions can be risky, especially when it comes to payment. For old-fashioned transactions, buyers usually make a 30% prepayment for the goods they order and pay the rest 70% after they are products and ready for shipment. However, most online transactions require a 100% payment before the products are processed and prepared for shipping. Some dishonest sellers or simply scammers may take your money away and never ship you anything. So it is extremely importantly to use a safer payment option when you trade with Chinese suppliers via the web. Paypal is highly recommended while credit card comes next.
Some world top brand transaction platforms like Aliexpress.com also provide payment protection service and they will receive the payment first and release it to the seller after the transaction is confirmed successful. Nevertheless, based on some real customer reviews, such platforms can side with the sellers when a dispute is incurred between sellers and buyers. When you buy something at a trading platform of this type, do remember to keep all evidence during the whole transaction process in case any dispute happens and to follow the site's timelines for processing a dispute, e.g. to open a dispute before the deadline otherwise the payment may be released to the seller as time is due.
Here are some of the Chinese shopping sites where you can purchase low priced shoes in bulk or in small quantities:
One Response to "Guide for Shoes Resellers: Pros and Cons of Shopping Shoes Online from China"
Leave a Reply