When I watched the product video of the LED light water dancing speaker at Banggood.com, I was instantly attracted. I believe it could be a hot-selling product and very suitable for re-selling. At the same time, it is a nice gadget for individual consumers, especially those who have little kids. Now the Christmas season is coming around the corner, I strongly recommend that you put it into your Christmas gift plan for your family or friends — every receiver would love this amazing gift!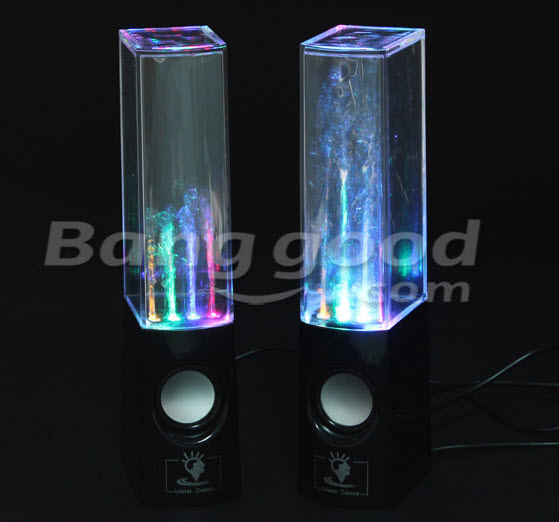 Let's see the major features of the water dancing speaker with LED lighting. With a built-in fountain stored in a transparent box, the speaker is particularly designed for sounds breaking prevents. When the speaker plays music, the water would dance up and down according to rhythm of the music, with flashing LED lighting effects, looking very interesting especially in the dark. Based on real customer reviews, some babies or little kids are extremely fascinated by the astonishing effects. For how the speaker really works, you can visit the product page here and watch the video.
Every detail of the LED water dancing speaker is clearly showcased on the product page as well as in the video. It is easy to use, just like the common speakers for computers, laptops, cell phones or any other music players. It has right and left set 3.5mm plug audio cable and USB cable to for power supplying. After you connect the pair of speakers to the music playing device, they will then be ready to work. As soon as the music comes out, the water begins to dance rhythmically. I just can't use words to describe how lovely the gadget is. The video will be a better option if you want to see the exact function of the speaker.
By the way, note that the LED water speaker is available in $26.99 per pair (not per piece) at Banggood.com. If you order 3 pairs or more in a single order, you will enjoy even better wholesale prices, which are clearly displayed there.
For detailed introduction to Banggood.com, please read the review here.
Leave a Reply