Company Background
In Guangzhou, China, there are lots of online wholesale companies, of different sizes. Overall, the majority of such firms are small and medium-sized. Banggood.com used to be one of the small online shops, based on my personal rating when they were founded in 2004. However, behind the website is a big team led by an ambitious man who has been achieving great success by selling a variety of products at eBay. As I know, the boss of Bandgood had been an airplane driver before he started his business at eBay. In addition, they are developing extraordinarily fast and now they have hundreds of full-time employees – when we talk about Banggood.com, we do not rank them as a small store anymore.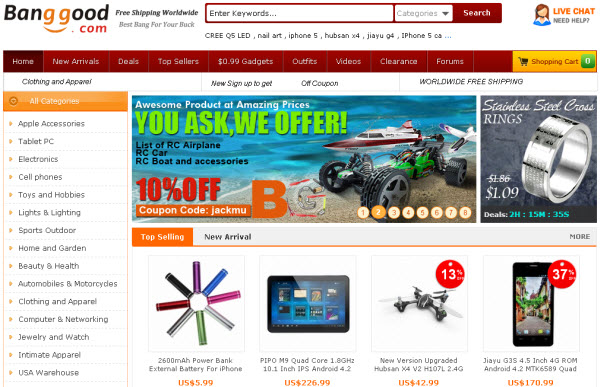 Like many other successful eBay sellers, the founder of Banggood was no longer satisfied with the revenues and achievements he has got at the eBay platform and created an individual website to sell products. Although the website is not as seasoned as the big names like Lightinthebox.com, it is already quite mature in product lines, technical support and customer service as the leader has abundant experience in foreign trade management. He led a professional team with sales people, marketing talents, service representatives and tech support guys to assist him in selling products at eBay.
Product Range
The main areas Banggood.com covers are mostly categories that have helped the man gain huge profits at eBay, including consumer electronics and accessories, apparel and fashion accessories, flashlights & lasers and home & garden. Cell phone accessories (e.g. earphones, cases, chargers, stylus pens, screen protectors, etc.) and LED lights are among the major revenue earners there. Toys, sporting goods, cosplay costumes and motor accessories are the minor areas that are slightly smaller in terms of product line. In particular, I notice that the RC helicopters and RC airplanes for sale at Banggood.com are getting extremely popular these years, standing out by a huge variety of options for styles or designs as well as pricing. The category of made-in-China RC helicopters, for instance, includes about 300 items.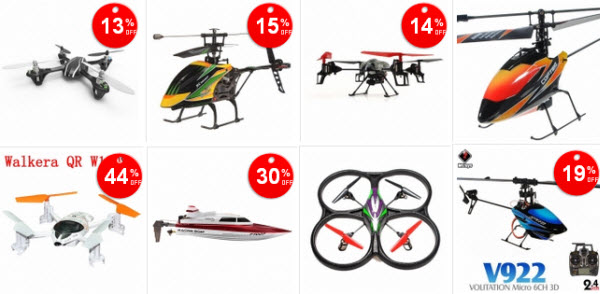 Prices
The prices Banggood offers are extensively low and competitive as the site's core target customers are businesses, retailers and resellers. Even for retail orders, wholesale prices are available. The difference is, when you purchase more in a single order, you will get an even lower unit price. You can visit the Banggood.com site to see the detailed pricing – I am sure you will be surprised. A RC helicopter is available at as low as $18 only!
Shipping
Like other emerging Chinese stores, Banggood.com offers free shipping on any order site wide by air mail. Of course, they also allow you to choose a quicker shipping method as long as you agree to pay a shipping fee which is also significantly discounted.
Banggood also provides dropshipping service for its customers who run their own online business at eBay or at individual websites of their own. By dropshipping products from Banggood, these businesses (of whatever size) are able to reduce costs and risks of keeping an inventory.
Banggood Scams
Just similar to any Chinese stores, big or small, Banggood.com has some negative feedback or bad reviews against them, which are posted on online forums, communities or blogs. Keep in mind that no Chinese online shops are free from complaints. If you do want to buy things from China through the Internet, you may need to take more time to read more carefully the negative reviews of the website instead of simply abandon using it. Try your best to avoid the situations mentioned in the unhappy reviews and do everything right to ensure yourself a safe shopping experience with Banggood.com. For example, if you want to purchase cheap RC helicopters there, try searching related reviews to see how people are rating the specific models of remote control helicopters there. That way you can more efficiently find the best deals on the top rated quality RC helicopters there.
The Verdict
Though based on my research, Banggood.com is a legitimate China-based online wholesale shopping site, I would suggest you be cautious as much as you can when you shop there. Choosing a safer payment method like PayPal should be one of the great options to protect your interests. Then, before you decide to build long-term cooperative relationship with the site, you can also place a small order to test the water first.
18 Responses to "Banggood Review: a Young Store backed by a Veteran Team"
Leave a Reply