The back-to-school season is coming around and stores have launched various kinds of back-to-school sales to boost revenues. For the customers, it is a great money saving opportunity to buy things we need, especially apparel and electronic gadgets. I have shared a list of 2013 back-to-school deals offered by the most popular China-based online stores and this post will focus on talking about the back-to-school promotion of Focalprice.com, a rising Chinese shopping site based in Shenzhen, a city nearing Hong Kong.

Though different kids may have different shopping lists of back-to-school essentials, most of them would not miss two categories: clothing and electronics. In particular, Focalprice.com offers a range of cool electronic gadgets with up to 38% off. You know, made-in-China electronics tend to stand out by lower pricing and the original prices for the gadgets at Focalprice.com are already very competitive. Now plus the discount, the offers are even more attractive.
The back-to-school 2013 deals available at Focalprice.com includes Chinese branded tablet PCs, cell phones, earphones for Apple, magnetic induction chargers for iPhone 5, protective cases for iPhone 5, USB flash drives, gaming mouse, waterproof laptop backpacks, MP4 players, stylish watches for men and women, USB clip LED lights, calculators, pens, notebook cosplay sets and more cheap made-in-China electronic accessories. As the first round of their 2013 back-to-school promotion, these deals will last till August, 25, 2013. The second round will be valid through September 4 with more great deals on different products.
Please note that while Focalprice.com has a UK-based warehouse, none of the deals included in the above mentioned back-to-school collection will be shipped from there. Instead, the products on sale will be shipped from their major warehouse located in the mainland China. For this reason, you may need to confirm carefully on the approximate shipping time of the order so that you can ensure that the things you want to buy will arrive timely. Generally, it takes 7-15 business days for a package to reach a US destination from China.
Back-to-school 2013 deals on electronic gadgets offered by other Chinese stores:
Miniinthebox.com


Priceangels.com


Tmart.com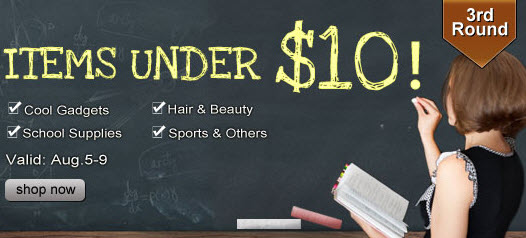 Leave a Reply