Is Fangtrade.com a legitimate shopping site?
When it comes to online shopping, security should always be considered the priority to all. Before I draft this Fangtrade.com review, I have done much research to confirm whether the site is a legitimate company or a scam. Here are my findings: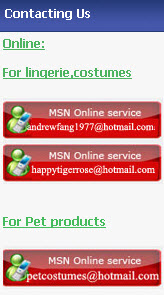 At the first glance at the homepage of the website, it seems like a small shopping website run by an individual seller or maybe a small couple-owned team with just one or two employees. My reason is very simple: the site looks not at all professional. I can easily find some spelling errors like the one shown below there. Besides, the homepage layout looks uncomfortable with too many wordings occupying the most important areas of the page. The most ridiculous part is, the domain name fangtrade.com does not match the logo showing the brand "AR SPORT". And finally, the contact information they indicated on the left is too personal as the live chat contact method is MSN and the contact persons all use personal emails (e.g. xxx@hotmail.com) instead of work emails that contain the company domain after the @ mark.
Anyway, I do find three upsides to the site. First, the products are quite neatly categorized and the selection is huge. Second, the site has a shopping system and you can place orders there directly. Third, they seem to quite focus on certain product lines and the products look attractive.
Honestly, from the website alone, it is hard to trust the company as too many suspicious facts exist out there. On the other hand, I do know a few Chinese friends who are completely honest in their foreign trade business at famous transaction websites like Aliexpress.com and build such small sites simply to showcase their products. They don't speak or write good English and as a result the contents they add or update onto the sites contain many grammar, spelling or translating errors.
So, is Fangtrade a scam site and is it safe to do business with them? Read further analysis below for more details.
Which company does Fangtrade belong to?
Fangtrade.com is owned by a company called "Lanxi Rose-team Sexy Lingerie". An odd name, isn't it? I discovered that the site has two sister websites that are run by the same firm and sell the similar products:
www.arinternationaltrade.com: this URL will steer you to the same site Fangtrade directs to. It is weird and I don't know why. Actually I think this domain name contains the initials of the site logo "AR". I guess Fangtrade may be the back-up domain name and the shortness of the name is an advantage – one day when their business grows big enough, they may use this one to build a more professional shopping site.
www.urcostumes.com: As lots of other small international online businesses do, this site uses the similar template to Lightinthebox.com. It looks much more professional than Fangtrade.com, although a closer look at the site reveals that it is also a small site. As shown below, when I visited the site, there are only 342 visitors online, indicating that the daily visits of the site are very limited.

At the same time, I noticed that the company has been running stores at three world-renowned China wholesale trading websites, including Alibaba.com, Aliexpress.com and Globalsource.com. Here are their store links:
Alibaba.com and Aliexpress.com belong to the same company. Their biggest difference lies in the fact that Alibaba focuses on big wholesale orders while Aliexpress on small wholesale orders. Both sites are very convenient to use and safe to make purchases. For detailed information about them, please read our reviews:
http://www.danviews.com/alibaba-review-key-facts-you-must-know-about-alibaba/
http://www.danviews.com/you-must-read-this-before-shopping-at-aliexpress/
So far we haven't done any research on Globalsource.com and are not able to provide any suggestion on doing business with them. Maybe in the future we will add them to our review list.
What products do they offer?
From the sites and stores of the company, I noticed that the products they offer are very close. Fancy dresses, sexy costumes, adult costumes, Halloween costumes, Christmas costumes, baby costumes, kid's costumes and pet costumes are their major fields.
Are there any better alternative websites to Fangtrade.com?
My answer: of course, there are numerous sites similar to (or much better than) Fangtrade. Among all, in terms of company size, global reputation as well as product range, I would recommend Milanoo.com and Aliexpress.com. Both of the sites are reliable and safe to shop stuff. Plus, they have built a huge customer base and established their names on the global market.

As an online fashion shop registered in Hong Kong, Milanoo.com carries an amazing variety of clothing and accessories that line with the latest trends. The site actually starts up their business from selling all kinds of costumes, including cosplay costumes, Lolita dresses and accessories, zentai catsuits and many more. Now the product line is still one of the hottest at the site. Unbeatable pricing is their very attraction.

As I mentioned above, Aliexpress.com is a transaction website. There you can find millions of Chinese suppliers offering different products at different prices and you have much more choices. All transactions are made under the protection provided by Aliexpress.com so you don't have to worry that you may encounter scammers and lose your money.
I personally don't encourage you to shop directly at Fangtrade.com or its sister websites as safety is not guaranteed. Although the company may be a serious business but it is not worth taking the risk given so many other alternatives to choose from. Consider Milanoo.com or Aliexpress.com when you want to buy sexy costumes or lingerie or other costumes online from China. If you do want to buy something from the company, the safer option is to trade with them via their Alibaba store or Aliexpress store, where you are under protection by an authoritative third party.
Leave a Reply