If you ask me whether the Chinese international shopping site Everbuying.com is legit or a scam, I can only be straight to tell you whatever I know based on my personal research. All information I share here is just for your reference only. After all, I never buy anything from the store and could not review Everbuying.com on how its products or services are. Every detail related this site is gained through the Internet, especially from real customer reviews posted on third-party websites or at social networking communities.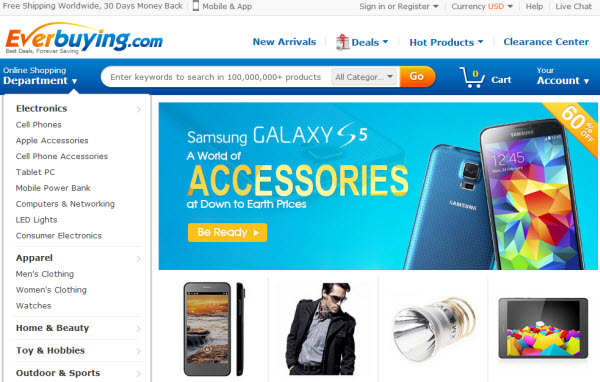 First, let's look at the very basic fact about Everbuying.com. I'm pretty sure this site is run by a big e-commerce company based in Shenzhen, who also owns a number of other popular international online stores such as Ahappydeal.com (read review) or Sammydress.com (read review).
It seems using various sites to do international business is the core strategy of the trading firm, just like many other Chinese international e-commerce groups. However, unlike the competitors, it is hard to find out which sites are the most important ones and most seem to be having a rather even share of the whole revenue of the company.
As for me, Ahappydeal.com, Sammydress.com and Everbuying.com are the key sites of the company. While the three sites have their own focus, they may also carry the same products but sell them at different prices. It is only natural if you take it as a pricing differentiation strategy adopted by the company to attract more sales.
Second, from the positive customer reviews or complaints about Everbuying.com available on the web, we can be confident that this site does exist and is doing business with global buyers. We can easily find topics about the shopping site by using the search engines like Google and you will be then shown with lots of related results, the contents of which may be posted years ago. This well proves that it is a real store instead of a scam who will disappear overnight after successfully taking your money away.
Third, Everbuying.com is protected by McAfee Secure and users can be assured that the site has passed strict security tests on a daily basis and they don't have to worry about any online threats while using the site. It is important to check whether an online shopping site is certified by an authoritative online security provider like McAfee as this will protect the information you input into the site from being stolen, leaked or manipulated for evil purposes. For instance, without such protection, the financial information you input during the checkout process may risk dangers.
Fourth, the customer service resources of Everbuying.com are not only reachable but also quite professional. In addition to email and live chat, customers can also contact them by phone calls. The phone service numbers are clearly stated on its official website. Click here for details.


To sum up, as a third-party reviewer, I can't say Everbuying.com is a wonderful online store as I can't tell whether the products or services they offer are good or not. Anyway, from my findings, I believe it is a legitimate online store of gadgets, apparel and a variety of other commonly sought-after made-in-China products. To be safe, you may need to start with a small order to test the quality standards of the products or services of the store. Do remember to use safer payment options like Paypla or credit cards to best protect your interest. Besides, always take advantage of Everbuying coupon codes to save cost when shopping there.
16 Responses to "Everbuying.com: Legit or A Scam?"
Leave a Reply