Spring has come and many Chinese online shopping sites for global buyers have already launched their collection of spring 2013 wedding dresses. As a tradition, these stores offer a certain discount on the spring new arrivals in order to boost their revenues. At the same time, some have also listed the latest styles in 2013 wedding apparel and accessories other than those fitting the spring season only. For instance, now you can find stylish summer beach wedding dresses from the stores easily, which will definitely make you a trend leader this summer.
This post is meant to compile deals on 2013 wedding dresses and/or accessories offered by various China-based online shops. Here are the latest deals on 2013 wedding dresses offered by popular online shopping websites based in China: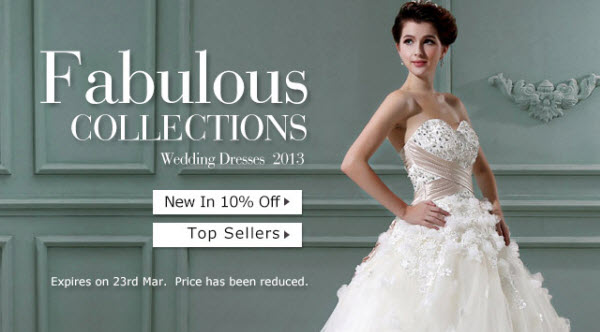 10% Off New Arrivals in Wedding Dresses 2013 at Milanoo.com, ending Mar. 23rd. On-sale styles include: ball gown wedding dresses, Europe style strapless wedding dresses, one-shoulder rhinestone satin wedding dresses, A-line short organza wedding dresses, sweetheart sweep luxury wedding dresses, mermaid trumpet wedding dresses, tea length wedding dresses, mini wedding dresses, wedding dresses for pregnant women, plus size wedding dresses and more. Take a look >>
—————————————————————————————————————————————————-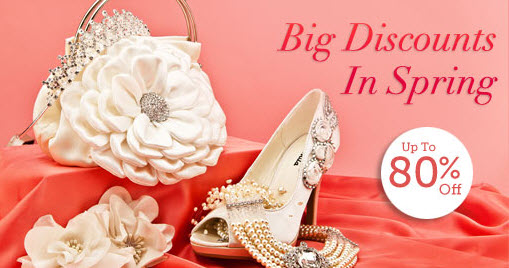 Up to 80% Off Wedding Supplies at Lightinthebox.com. On-sale products include: wedding veils, wedding shoes, wedding wraps, wedding headpieces, wedding jewelry, wedding bags, wedding lingerie, wedding gloves, wedding sashes and wedding swatches. Take a look >>
Note: More deals will be added here regularly throughout the year.
I have a long list of posts reviewing the wedding dresses offered by various Chinese stores here at my site. You can use the search box at the right top to search for topics of your interest. Before you go ahead, I would encourage you to read "My Criteria for Reviewing Wedding Dresses Offered by Chinese Suppliers" first.
Wedding gowns made by Chinese manufacturers are first of all famous for the unbeatable pricing. While a common wedding dress in your local store requires hundreds of US dollars, you can get it at around $100 only; for high-end wedding gowns which may cost you over $1,000 USD, they are available at the Chinese stores at $150-$350 only. When a promotional code or discount is offered, the pricing is even more alluring. Even without the extra discounts, they are already very attractive in terms of pricing. That is exactly why more and more people choose to shop their wedding dresses directly from online Chinese suppliers.
As for quality, just remember one thing: for made-in-China bridal gowns for sale at the same store, the prices match the quality standards. That is, the higher the price is, the better the quality is. Generally, prices offered by different stores can also reflect the quality levels too. Similar or close style wedding dresses available at various stores can be slightly different in pricing. However, chances are wedding dresses with the same or similar design offered by different stores differ from each other in terms of quality due to the fact that the stores cooperate with different dressmakers or wedding dress manufacturers. As a result it is quite tricky to compare prices for wedding dresses listed at different stores just by sticking to the prices. In my personal list, Lightinthebox.com is the most trustworthy when it comes to sourcing or buying high quality wedding dresses and Milanoo.com come the next. Other reliable Chinese online destinations worth considering are Aliexpress.com, DHgate.com, Merledress.com, Sammydress.com and more.
In particular, unlike Lightinthebox.com or Milanoo.com, Aliexpress.com and DHgate.com are trading platforms connecting suppliers and buyers. Their biggest attraction lies in the fact that they have the widest selection of wedding dresses and the biggest number of sellers to choose from. Also, various price standards give buyers more choices to balance between their budget and shopping. But their downside is obvious too: you must be very careful when selecting a trusted seller to trade with. You have to spare no effort to check the feedback of the sellers and read the reviews of customers left for them. Besides, you need to make a judgment yourself through the communications with the sellers on whether they are dependable or not. Otherwise you may be ripped off by scammers. Although the sites provide escrow buyer protection service and you can request refund, the processing can take really long and annoy you a lot.
On the other hand, shopping wedding dresses straight from famed sellers like Lightinthebox or Milanoo can greatly reduce the hassles. They might be no perfect but they are very professional and seasoned in this area and should be more likely to offer you a pleasant shopping experience.
One Response to "Deals on 2013 Wedding Dresses from Online Chinese Shopping Sites – updated regularly"
essex wedding venue Says:
April 28th, 2013 at 9:05 pm

A good and awesome range of beautiful dresses is available here with a wonderful discount.
Leave a Reply