Banggood.com impresses buyers around the world mainly by cool electronic gadgets, RC toys (especially RC helicopters) and apparel. Anyway, in recent two years, we see a robust progress the Chinese shopping website has been making and it keeps expanding its product line. Among all, Jewelry and Watches is one of the fastest growing categories of the store. There you can find a wide range of cheap made-in-China fashion jewelry for both men and women, including necklaces, bracelets, earrings and rings.
The prices Banggood offers for stylish jewelry is super low. I am not overstating about its unbeatable pricing and I am sure you will agree with me after you do a quick pricing comparison among the Chinese online retail or wholesale shops. For just 1-10 US bucks, you can get a piece of beautiful and fashionable jewelry without paying any shipping fee as it provides free standard shipping service to customers worldwide. The following stainless steel leather chain bracelet for men, for example, is currently on sale at discounted priced based on order quantities. If you just order one piece of the item, you only need to pay $5.45 with free shipping. The more you order, the lower price you will be honored with and the whole price is as low as $4.88.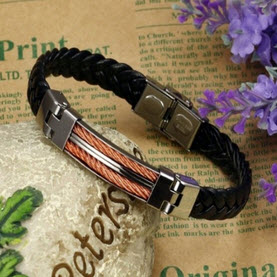 With 23cm length and 10mm width, the classy men's bracelet has an easy-to-use buckle so that you can wear it or take it off without any effort. For individuals, the bracelet is not only good for adding a fashion flavor to your outfit but also suitable for gifting your family, boyfriend or husband. If you are looking for a decent Christmas gift, birthday gift or anniversary gift or the man you are beloved with, this bracelet could be a wonderful choice. For merchants, it could be the best-seller if you invite it into your store showcase. The attractive re-sell margin could help you earn a lot. I strongly recommend you to stock up on this style for your inventory of Christmas 2013 gifts for men.
Generally, Banggood.com puts drop-shipping orders at the priority and processes such orders in 1 business day while it takes 1-3 business days for the shopping website to handle non-dropshipping orders. Depending on the destinations as well as the shipping methods you choose, the shipping time varies from 7 to 25 business days if the order is dispatched from the mainland China. It takes only 3-6 business days to get the order delivered to your doorstep if it is sent from its US or UK warehouse, but some charges may apply. For more detailed introduction to Banggood.com, please click here.