When I was looking for best Christmas gifts for kids, I found a lovely toy named as "MAG-WISDOM Intelligent Magnetic Toy" at Focalprice.com. I was instantly attracted by the product images in which different shapes are showcased with the colorful magnetic parts. My son loves this kind of toys very much and for this reason, I become very sensitive to such products.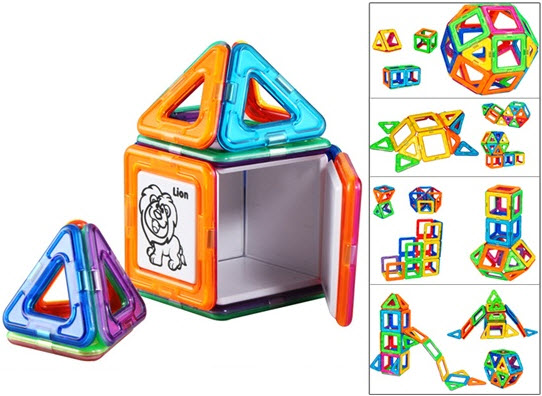 The magnetic toy includes 20 pieces of parts in triangle or square. Some of them are cut-out triangles, some cut-out squares while the others are solid magnetic pieces. As the picture above shows, you can create any shape as you wish using the pieces. It is super easy for little kids to finish the job as every piece of the part is magnetic. Just stick one piece to another and it is done. Base on my experience, this toy could be a great Christmas gift for children of 1-5 year old. Even adults could find a lot of fun in assembling the parts to make creative shapes.
The category of Toys and Hobbies is one of the best product lines at Focalprice.com, the popular electronic gadget store based in Shenzhen, China. In addition to educational toys, the site also carries a wide range of RC toys like RC helicopters or RC cars, puzzles, stuffed toys and dolls, pranks, gags and unique gifts, weapons and military toys, solar toys and more toys or hobbies-related products. The prices it offers are always reasonable so you don't have to worry about getting things at uncompetitive prices there.
As for buying cheap made-in-China toys for children, I also recommend Banggood.com besides Focalprice.com. The two sites are quite similar in terms of major fields and global reputation. Both sites develop from doing online trading at eBay. Anyway, Banggood.com is located in another famous city also of Guangdong province: Guangzhou. RC helicopters are the best of the best-selling toys at this site. Using either site to source best-priced toys, you can be confident that they are legitimate shopping site and that the quality is dependable.