RC helicopters are being widely sought-after among both children and grownups these years. Recently I notice that RC helicopters equipped with camera are getting crazily popular. When I input "RC helicopter" into the search boxes at some famous online shopping websites, I always got the same search suggestion: RC helicopter with camera.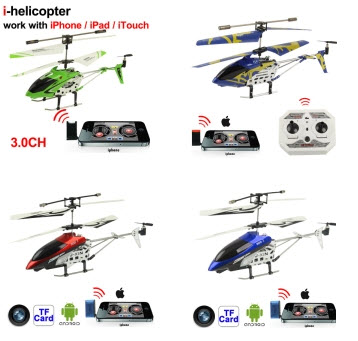 Image courtesy of eForChina.com
To learn more about this trend, I chatted with my friend Alice, a smart lady who works for an international e-commerce company. She told me the RC helicopters with camera are now selling very well. Every day merchants from all over the world order such helicopters in bulk with their site and many are repeat customers. At the same time, a good number of personal shoppers buy this type of toys from them for personal use – even though wholesale business is their major field, they attract lots of end consumers simply because they don't require a minimum order quantity and offer a low wholesale price even if you just buy one piece of the item. In particular, iPhone controlled RC helicopters with camera are in high demand based on their selling record.
With a built-in camera, the RC helicopters can take photos or make videos of the sceneries from an angle which is hard for us to reach by hand. This is really fun! Besides, the Micro SD card slot makes it possible to create as many photos or videos as you want. You can control the helicopter to the position you like from a distance up to 100m without much effort. Generally, the helicopters can go forward or backward, up or down, or left or right based on your operation.
Being reasonably responsive, the helicopters are easy to operate and control. The USB charging function also free you from the hassles of replacing batteries again and again. You know, batteries usually can last for just a while and more importantly, you have to invest much money in them! Note that different models may require different charging time and their action time vary from each other too. For instance, an advanced RC helicopter will be able to play for about 10 minutes after it is charged for 120 minutes.
According to my research, RC helicopters with camera are priced at $15 to $880 on the Chinese foreign trading market. Generally speaking, the more expensive ones are better in performance or have more features. Free shipping is honored by some online shops. If you are interested in sourcing this type of RC helicopters from Chinese suppliers, the following websites are recommended:
Some of the sites mentioned above also carry a range of RC helicopters with built-in camera and Gyro for Android OS devices, iPhone, iPad, iPod or iTouch.

One Response to "Cool Toys: RC Helicopters with Camera"
judith Says:
March 12th, 2013 at 12:54 am

Thanks for sharing this latest technology.I am interested in RC Helicopter and have different but this one is realy new and awesome for me.I really impress your helicopter and wanted to get one for my brother.
Leave a Reply