Following the big trend Feiyue shoes set in the global fashion industry, another style of Chinese old-fashion shoes becomes the focus of attention among fashionistas throughout Europe, America and Japan, the so-called "Chinese liberation shoes" (Jiefangxie in Chinese) or "Ospop." (in the U.S.).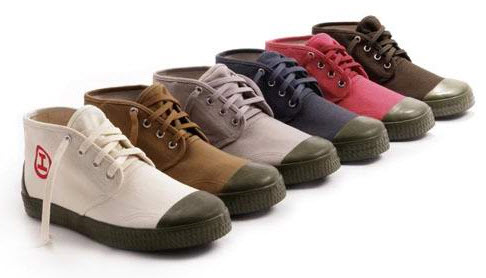 In China, almost everyone knows Liberation shoes, which were originally a part of the first uniform of China's People's Liberation Army in 1950. For about 40 years, the Liberation shoes were absolutely the most trendy shoes among the Chinese people, from the old to the young and from adults to kids. Until in the 1990s, liberation shoes went out of fashion and only those with a low income such as building workers would like to wear the old-fashion footwear for hard labor work.
Today, it's very common to see a stylish guy wearing a pair of processed Chinese liberation shoes Ospop. in a street in Japan, Europe or America. In the United States, the price of a pair of liberation shoes can even equal that of Nike shoes, $75 U.S. dollars! You know how much a pair of liberation shoes cost in China? For only 20 RMB (less than 3 USD), you can get the shoes from a vendor running a street stall. At the same time, in some popular China-based international online shops like AliExpress.com, liberation shoes can be tracked on their product listings.
It was reported that the liberation shoes were revived by an American businessman who happened to see the traditional Chinese army shoes in Shanghai in 2007. He bought one pair of such shoes and started to contact the manufacturer trying to discuss the possibility of cooperation. After rounds of negotiations, the shoe factory based in Henan Province of China decided to take the offer. Then, they started to improve the liberation shoes based on the requirements of the American businessman. The designs were changed slightly and more environment-friendly materials were adopted to produce the shoes. Of course, the biggest advantage of the footwear is kept: strong durability. Finally, the new Chinese liberation shoes Ospop. come out and soon dominate the U.S. shoe market and later the Japan and Europe fashion industry.
Leave a Reply