Mentioning the custom-made bridesmaid dresses on Milanoo.com, again, I have to admit that Milanoo develops really fast. Both the number of its item categories and that of items contained in each category are increasing. And so does its global reputation.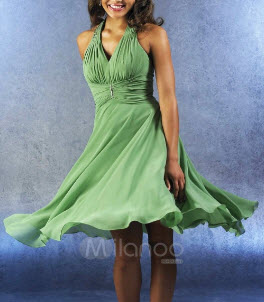 Low Prices & Deep Discounts
Cheap prices and free shipping are always Milanoo's distinctive features. And these features also apply to its tailor-made bridesmaid dresses. With the free shipping service, you don't have to worry about the high shipping cost and won't be hassled by the calculation of shipping fee to your destination. Ordering the bridesmaid dresses thus becomes easier and simpler. Milanoo's low pricing strategy still works—we mentioned in some previous article that Milanoo may temporarily adopt this strategy to enlarge its customer base. I've compared some of its wholesale bridesmaid dresses with those on other Chinese wholesale websites and found that even with the free shipping service, most of its prices are still lower than those offered by other stores. Just see around the major China-based wholesale stores, you will find that free shipping is now not so commonly available.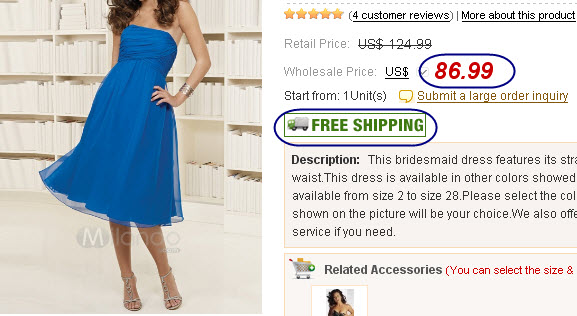 In addition, Milanoo launches promotions on its wholesale custom-made bridesmaid dresses quite frequently. In its 'Daily Madness' zone, super cheap bridesmaid dresses are often seen on sale there, sometimes as high as 60% off. Given that items in Milanoo's Daily Madness Sale are offered at unbelievably low prices for that day only, if you happen to see desired bridesmaid dresses there, you need to hurry to place the order.
Various Styles
When I see the number of items included in Milanoo's category of Wholesale Bridesmaid Dresses, I got really shocked. There are a total of 652 items under that category! Compared with other famous wholesale websites, for a young company, this number has already gone beyond my imagination. As I mentioned at the beginning of this post, Milanoo seems to have stepped into a rapid development period and the growing number of items can be considered as a sound proof.

Tailoring Time & Delivery Time
Generally, it takes about 20 days for Milanoo to process and tailor a bridesmaid dress, and about 7 to 10 days to deliver it to the destination. So the total time should be between 27 days to 30 days, which is a bit slower than that guaranteed by Lightinthebox.com (see details introduced in the article shown at the end of the post).
If you have any question about the cheap custom-made bridesmaid dresses there, you can click the 'Ask a Question' button to get a live chat with its service representatives. The button can be found on each product detail page, underneath the 'Add to Cart' button on the right of the page. I've tried the service and feels good about both the responsiveness of the service representative and the user-friendliness of the live chat tool.
View the Wholesale Bridesmaid Dresses on Milanoo.com
Other custom-made bridesmaid Dresses Shopping Guides:
Images courtesy of Milanoo.com
3 Responses to "Cheap Priced Custom-made Bridesmaid Dresses on Milanoo"
Leave a Reply