If you are looking for latest styles in cheap swimwear manufactured by Chinese factories, the promotion on 2013 swimwear for women at Milanoo.com deserves a good look. The fashion store are constantly adding new styles to their swimsuits category, especially when sizzling summer is coming around. So far they have listed over 1,500 styles in this product line and it is easy to find a style that fits your taste or fashion style.
In addition to Bikini swimwear or bikini swimsuites, the site also carry one-piece swimsuits, two-piece swimsuits, swimdresses, Tankini swimwear, skirted swim suits, beach cover-ups and Monokini swimsuits. Also, you can shop swimwear for ladies by the specific cut, color or print. I know many fashion lovers are obsessed with some detail on a piece of swimwear, such as hollow-out, one-shoulder, halter, ruffles, multi-strap, stripe, metal chain, lace-up, v-neck, pearl adorned, bow, cut-out or the like. Milanoo.com (read the detailed review of the site) seem to have all the choices to choose from. As for colors, well, they are too many to list one by one. I bet you won't get disappointed no matter which color you like. Though you may not find the desired color for the desired style though, chances are you will be allured by the amazing collection to buy another color or style even in such case. Major materials used for the swimwear include Lycra, spandex, nylon, polyester and Chinlon. The prices for the swimsuits made from different materials vary only slightly. It all depends on which material you prefer.
Here are a few styles I personally love very much: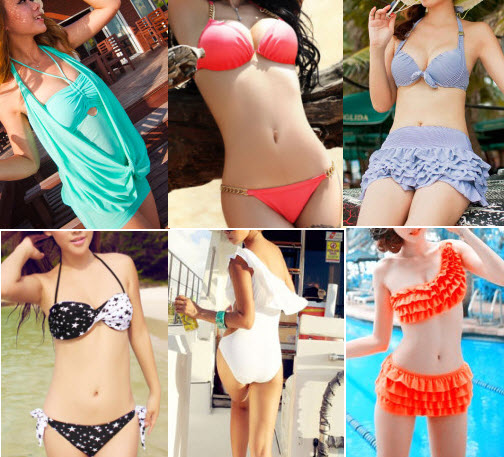 See all styles here >>
The original prices for the swimsuits available at Milanoo.com range from $7.99 and $28.99. You can get an even lower price if you are good at taking advantage of their various kinds of promotional programs, such as the Dailymadness sale or holiday sales. Usually they put a very attractive price tag for new arrivals so that customers can be attracted to give them a try. After they have built a significant customer base for that category, they may raise the price gradually in order to make more profits. Of course, they will then again slash down the prices at the end of the season for clearance. So it is not quite a good time to shop for women's swimsuits at Milanoo.com as the newly arrived styles are priced very competitively.
As for quality, be honest, I can only say the discounted swimsuits for sale at Milanoo.com are good for the pricing. If you are prowling for high-end or superior quality swimwear for women, the site may be not a good choice. As I know, they are best known for offering highly affordable prices on products with acceptable quality. If name brand swimsuits are your expectation, just ignore this store or any other Chinese online suppliers. When the Chinese shopping sites claim that their designer swimsuits are genuine, they are probably telling a lie and never trust the words. Anyway, some Chinese online shops do offer better quality swimsuits for ladies. I will share the promotional information on 2013 swimwear made in China at high quality standards in the future. Please see my updates if interested.
Leave a Reply