What Separates the Chinese Global Online Fashion Store from Their Competitors?
In the Chinese foreign trade arena, when you mention Romwe.com, rare people know about the fashion retailer. I hadn't realized that it is a special online fashion store with something unique before I took a good look at their product catalogs. I was surprised to find that the fashion products they are offering are totally different from those available at the China-bases sites which I am familiar with, such as Lightinthebox.com, Milanoo.com, Fancyladies.com, to name just a few.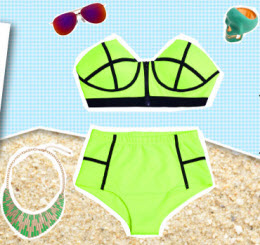 Founded in 2009, Romwe is truly a street fashion definer, just as how they label themselves. From the various kinds of trendy fashion products listed at the site, you will be instantly attracted by the glamorous city lines as well as the relaxing or casual sense. At the same time, you may even get an illusion that you've entered the world-top high streets of fashion capitals such as New York, Berlin, Paris, London, Tokyo, Shanghai, Hong Kong, Milan or the like. Then, by looking closer at the price tags, you will be shocked to find that the best street styles are equally attractive and most fashionistas with a small budget on their wardrobes would never feel awkward for having to abandon a dreamed style because of the high cost.
As a cliché, before we shop with any China-based online store carrying whatever categories, we need to do some research in order to avoid potential risks. Security always comes first and we should be cautious when paying out our money to an online shop for a purchase, especially for the first time. Reviews of the websites posted by real customers as well as third-party bloggers, reviewers, editors, forum members or webmasters could help a lot. To help minimize the tough research work for interested parties, I will share my findings about the Chinese company below.
Website Traffic Analysis
According to Alexa, the global site ranking of Romwe.com is 15,046, which indicates that the site have a significant traffic base they are visited quite extensively by visitors around the world. I often refer this as a useful sign for telling whether a site is legit or not. You know, a scam website can't be able to attract so many visits as they tend to disappear quickly after taking the money from the victims. Only legitimate shopping websites are willing to invest big money in getting more traffic to their sites to boost their sales.
The major traffic source of the Romwe.com site is from Facebook.com. Based on my research, Romwe is one of the rare Chinese online international fashion stores that are doing well in Facebook marketing. That explains why they have so many visitors coming from the social networking website. Now, let's look at the top search queries for Romwe.com: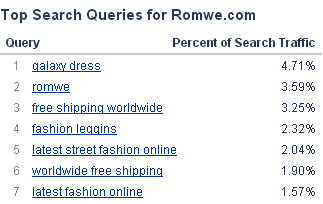 Stats. from Alexa.com
From the major keywords that direct people to Romwe.com, we can see the following features of the store:
1. providing free shipping service to any destination of the world;
2. building romwe as an individual fashion brand instead of a fashion store only;
3. focusing on street fashion with latest street styles added regularly;
4. selling good on galaxy dresses and fashion leggings.
When lots of people use the keyword "Romwe leggings" to find information, it means Romwe should be quite famous for this product category. Though these search terms may not be so accurately revealing the exact major features of Romwe, at least they give us a helpful hint for getting a better understanding of the site.
Main Product Lines
In practice, it is easy to figure out what are the main product lines of an online store. Just take a good look at their homepage banners and the positions of the categories in the navigation area. Then you will get a basic idea about what are the most important catalogs they feature. Obviously, among all apparel and fashion accessories listed at Romwe.com, the current backbones of the site are women's t-shirts, women's dresses, women's shirts or blouses, women's tights, women's swimwear and women's lingerie. Most of the fashion products there are labeled with the Romwe design, separating themselves from other made-in-China clothing for sale online at other sites. They are definitely not created by big designers but they are flavored with a world designer touch as all the products are inspired by the dominating world street fashion trends.
Statement Styles
As I mentioned earlier, one good thing of Romwe fashion is its uniqueness. You can never get the style they have from another Chinese store. In particular, vintage styles seem to be one key part of their whole collection and creative prints are extensively put on their clothing and accessories, e.g. skull print sheer shirts, Simpson print denim shorts, galaxy mustache print leggings, starry night print leggings, spiked skeleton hand print bras, lion face print deep cut swimsuits, to list just a few.

Overall, in terms of styles, Romwe apparel stand out mainly by lovely prints and over-the-top cuts. If you are looking for casual street styles that will make you the attention catcher in the street, Romwe is the choice.
Pricing Competiveness
The prices Romwe.com offers are not as competitive as those offered by wholesale sites such as Aliexpress.com, but they are absolutely good for retail shopping. For instance, the following collection of women's shirts is available at between $15 and $35 with free shipping: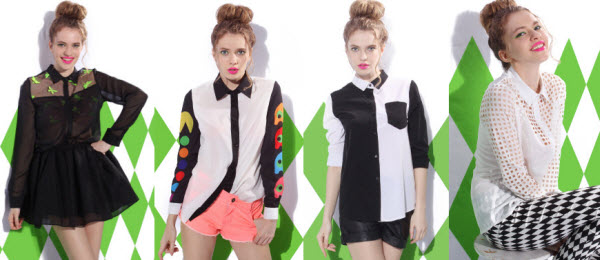 See more discounted fashion shirts at Romwe.com >>
Romwe Coupons
In addition to regular sales highlighted on the homepage, Romwe.com offers coupon codes from time to time through other channels such as Facebook or sponsored blogs. Here at my site I update the Romwe Coupon Codes page frequently and you can visit the page to find a coupon code that may help you save more on your purchase with Romwe.com.
Note that the information provided here may contain some errors because of limited resources. Anyway, you are still encouraged to take the Romwe review for reference when evaluating the credibility and reliability of the fashion brand.
Images courtesy of Romwe.com
Leave a Reply