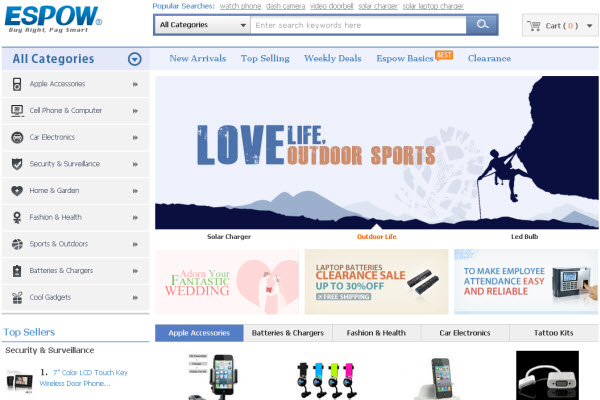 I like the website style of Espow.com as it is imbued with a business tone, making it look extraordinarily professional.
The first time I ran with the shopping website Espow.com, I had a feeling that it is backed by a Chinese team instead of an overseas one though they are trying to make visitors convinced that they are Western. According to their statements indicated at the website, they have three warehouses based in New Jersey of US, London of UK and Hong Kong and their contact phone numbers are all nothing about a Chinese identity. To figure out whether my instinct is telling me the truth about the company ownership, I did some research out of my way. If you are interested in the online store, please read ahead the free detailed review of Espow.com.
Company Identity
I got some helpful information from the Norton Secured sign showcased at Espow.com. Based on the verification report, this website belongs to Billion Bright International Trading Limited, a Hong Kong-based company. This pretty much proves that Espow.com should be a HK register business entity. However, the weird thing is: I also found that two stores under the same company name listed at Alibaba.com and Hktdc.com are offering totally different products from what Espow.com is selling. While the Alibaba store and the HKTDC store are both selling stuff like wires or cables, the Espow is selling a variety of consumer electronics including Apple accessories, cell phones, computers, car electronics and much more. This makes it complicated for me to identify the real ownership of the website. Nevertheless, considering that it is nothing strange when the same trading company runs different shopping websites targeting different categories, we can not say Espow.com is not a legitimate shopping site.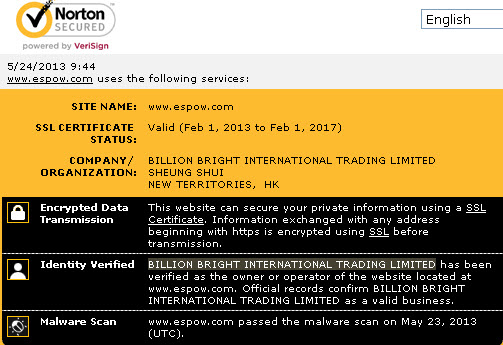 Then, I tried to search more information on the website by using a Chinese search engine and this time, I am pretty sure my feeling did not lie. From the company recruitment ads posted online, I got to know that Espow.com is actually headquartered in Shenzhen, just like many other famous consumer electronic online stores such as Focalprice.com, Priceangels.com, Ahappydeal.com or Tmart.com.
Now let's make a brief conclusion of the identity of Espow.com: it is a Hong Kong registered electronic gadget trading company with head offices based in Shenzhen, China and warehouses located in Hong Kong, the United States and the UK.
Pros
The site is verified and protected by authoritative website security experts like Norton Secured. This means they are not a phishing website and you will remain safe shopping there without leaking your personal information to illegal use.
It officially went live in late December, 2008 and has been in the business for more than four years. A scammer usually disappears overnight after he or she successfully cheats the buyers out of the money. Espow.com has been existed for so long and they are definitely not a scam.
They have an elite sourcing team consisting of over 20 members from China, Japan, Malaysia, Indonesia, United States and United Kingdom, led by experienced merchandisers who worked for world top companies like Huawei or Foxconn. The outstanding sourcing capacities can ensure that the products they offer are quality-made and enjoy a promising market potential. Espow.com carries a wide array of cool gadgets that can make our "electronic life" even more thrilling. For instance, the following vintage style anti-radiation handset for iPhone is so cute that I am sure many iPhone users would love it at the first glance. Anyway, after comparing the prices, I notice that Focalprice.com offers a lower price on the similar gadget: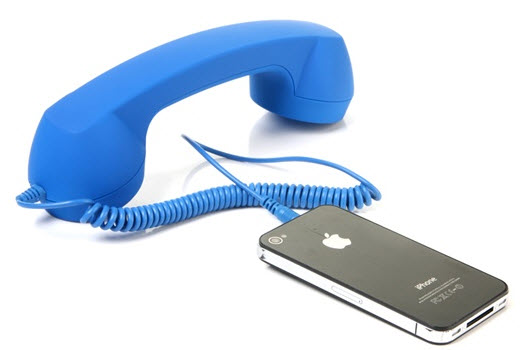 Image courtesy of Focalprice.com
All of their products go through a 4-level quality verification procedure before they are packed for delivery. The Chinese internet trading industry is tainted with many fakes and frauds but at Espow.com, you can be assured that every single product there is genuine and produced by reputable and reliable manufacturers. You can find a laser label indicating that it has passed the four-tier quality inspections on the package. With that strict quality control, you can be confident that what you purchase from Espow.com is quality assured. For the same reason you don't have to face the potential quality problems as you shop with a less quality-oriented Chinese electronic store. The biggest hassle is thus saved.
Their Return Policy and Refund Policy are clearly specified at the website and they handle related issues strictly based on the policies. In addition, these policies are comparatively rather customer-friendly.
It takes only 3-10 business days for Espow.com to ship your orders from their UK, US or Hong Kong warehouse, generally faster than other Chinese electronic sites which have to ship their orders from the mainland China through a standard shipping method.
They are honest to let negative reviews against their products out at their website. Wow, only a truly powerful company dares to do this way. Most Chinese online shopping sites would choose to withdraw bad reviews while publishing the good ones purely to make them look all positive. Espow.com deserves our respect in this respect.
Cons
The prices offered by Espow.com are not the rock bottom. Though they claim they are offering lowest wholesale prices to even retail orders, I found that most of their prices are slightly higher than popular names like Focalprice.com or Ahappydeal.com. Besides, while most Chinese electronic sites provide free shipping service, which takes much longer for delivery though, Espow.com require the customers to pay for a shipping fee.
Seriously, I don't see any second disadvantage of Espow.com from my personal angle.
The Bottom Line
As a online distributor of cool electronic gadgets, Espow.com cover plenty of areas including mobile phones and accessories, tablet PCs, laptops and accessories, sports & outdoors, car electronics, security & surveillance, home and garden, fashion & health and more. They are not a pricing winner. What makes them really stands out is the superior quality that deserves your investment. Technically, I would rank them as a premium supplier of cool gadgets that target higher-end consumers who would never mind paying a little more for really good stuff.
3 Responses to "A Free Detailed Review of Espow.com"
marees Says:
September 8th, 2014 at 3:28 am

hi, just a word of caution to International consumers buying from this web-site. I made the wrong assumption that because they ship world-wide the products also must be international version.

But I received a Chinese language Windows tablet with no option to change the language to English and no warning in the specifications also about this.

This is my only experience buying from an international web-site (other than Amazon, e-bay) and I am dis-appointed that they didnt highlight the language issue. Waste of my hard-earned-money really

marees Says:
December 17th, 2014 at 8:25 am

just a word of caution to International consumers. I made the wrong assumption that because the web-site (espow.com) ships world-wide, the products also must be international version.

I recently purchased a Voyo Windows tablet from espow.com and to my total surprise I received a Chinese language (Voyo) Windows tablet with no option to change the language to English and no warning in the specifications also about this.

So now I am stuck with a tablet which I cannot customize because all the OS display language is in Chinese and not English. It seems Microsoft has a Windows 8.1 with Bing PRC edition which is Chinese only and cannot be changed to English. But this version was never highlighted in the specifications.

This is my only experience buying from an international web-site (other than Amazon, e-bay) and I am dis-appointed that they didnt highlight the language issue.

Raju Chowdhary Says:
September 28th, 2015 at 11:00 pm

Hello. This is Raju chowdhary from India. I had ordered one product from espow.com on 03.12.2014 . the product has alredy returned from India by mistake. since 9 months I am trying to contact them but they even didn't reply.. the site is blocked and it shows blank. please help me to get my money refund. My order Id ESHE20141124159 .
Leave a Reply