The Wholesale Women's Dresses category at Milanoo covers 789 styles in women's casual dresses, including day dresses, maxi dresses, summer dresses and print dresses. Most of the dresses are made-in-China brands and showcased by Chinese or Western models. The prices range from $19.99 to $59.99. Free shipping is available on select items or certain order values.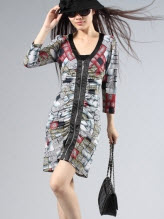 Over the past two years, Milanoo has been growing in company size, product lines as well as international reputation on the fashion market. Although it's far from as famous as Lightinthebox, it does have its own strong points. First, the company focuses on offering fashion products and is thus more professional about trends and styles. Second, the fashion items it offers are more varied, ranging from high-end fashion, medium-level fashion to low-end fashion. For instance, there you can find stylish wholesale women's dresses at different price levels that are able to meet different groups of fashion lovers. Comparatively, most items there are more suitable for common customers' consumption capacities, just as what the company is dedicated to pursuing, "to evoke your affordable passion for fashion". Finally, the prices Milanoo offers are unbeatable. For items with the same or similar quality standards, it's hard to find lower prices elsewhere.
Likewise, apart from casual dresses, Milanoo also provides a variety of beautifully designed special occasion dresses, including wedding party dresses, evening dresses, homecoming dresses, celebrity dresses and much more. Click the following images to view the catalogs.
Wedding Party Dresses:

Evening Dresses:

Homecoming Dresses:

Celebrity Dresses:

Leave a Reply