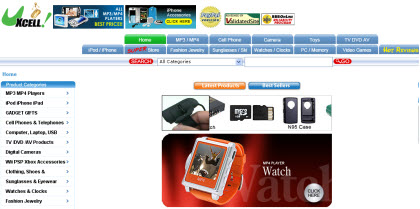 Founded in 2004, Uxcell.com is a factory-direct China shopping store for all kinds of consumer electronics. Based in Hong Kong, its customers cover the majority of countries or regions around the world. Anyway, it seems that the United States, Canada and the United Kingdom are its biggest customer sources—it puts the three countries on the top of the drop-down menu of the "country" section on its checkout page.
Wholesale or Retail?
Basically, my research indicates that Uxcell.com focuses on retail business rather than wholesale business. Unlike other China shopping companies such as Lightinthebox and DavisMicro, Uxcell does not show its priority on giving lower prices on bigger orders. When you add an item there into your shopping cart, you won't see any price difference shown there for different sizes of orders. But we have to admit that the prices Uxcell offers are already very low. For example, a TV remote control sports watch is priced at US$8.99 only. After all, its products all come from factories directly and there prices must be very competitive. Given this, though it is not a traditional wholesale website, I believe it is still a good store to buy in bulk for one's inventory.
Safety of Online Shopping
Uxcell is a registered and legitimated China shopping company whose office address is clearly displayed on its About Us page. If you have any chance to visit Hong Kong, you can go there and check by yourself. And the best proof of its credibility and reliability is: Uxcell has been accredited by the authoritative international organization BBB (Better Business Bureau). Below are some of the details:

UXCell meets all BBBOnLine participation and Better Business Bureau accreditation standards and is authorized to display the BBB Accredited Business seal.
This business has been operating since 01/01/2004
This business was accredited by BBB on 06/18/2008
This business was approved as meeting BBBOnLine standards on 06/26/2008
Based on the BBB Reliability Report for the company, Uxcell has a BBB rating of A on a scale from A+ to F, the second highest score.
Besides, the whole website of Uxcell is reviewed by ValidatedSite and Networksolutions on a daily base. When you shop and check out there, you won't at all encounter any safety problem such as getting into a phishing trap.
Shipping & Fees
The China shopping shop Uxcell features a universal flat shipping fee of 5 USD per item for worldwide destinations. That is, each item there, big or small, will be charged a 5 USD shipping fee. This kind of shipping fee charging is possible because Uxcell subsidizes the rest shipping cost for the convenience of its customers. If you choose the universal shipping fee, it will take your order about 3-15 days to arrive at your door since dispatch. So if you want to get your order more quickly, you can also select UPS express or Speedpost to ship your order at very reasonable additional charges and insurance cost, which will take only 2-5 days for the transportation.
Also, in the middle top banner zone, you will find a Free Shipping Corner where all items are offered for free shipping. Currently, the items available for free shipping are limited in quantity but Uxcell seems to constantly update the corner with more and more items.
Payment Methods
For payment, Uxcell accepts all major credit cards and PayPal express checkout.
Money Back Guarantee
If you are not satisfied with the item purchased from Uxcell or the item does not work, you can return it for a refund within 30 days since the receipt of the item. Besides, most products offered by Uxcell are covered with a one-year warranty so you can be confident that what you buy from Uxcell is completely worth your dollar and quality guaranteed.
I have to say that among all China shopping websites, I personally like Uxcell best in terms of user interface, checkout flow as well as the standardization of English it uses. I tried placing an order and stopped until I proceeded to the payment step. The wholesale order procedure is simple and easy, very user friendly indeed. So far, it is the best order procedure I've experienced. By the way, the China shopping website's customer service is also quite impressive—I emailed them asking some questions about their services and a couple of hours later I got their reply with a very professional answer.
For details, you can visit Uxcell.com.
Also, before  you place any order there, don't forget to check if some Uxcell Coupon Codes are available!
7 Responses to "Uxcell Review: Factory-Direct China Shopping Store for Consumer Electronics"
Leave a Reply