We just found that Milanoo has just launched a great free shipping offer: from Feb. 23 to Feb. 26, 2011, if you buy $50 or more from the wholesale shopping website, you don't have to pay any shipping fee on your order. For buyers who are interested in finding cheap but quality fashion items, don't miss out this amazing opportunity to save cost!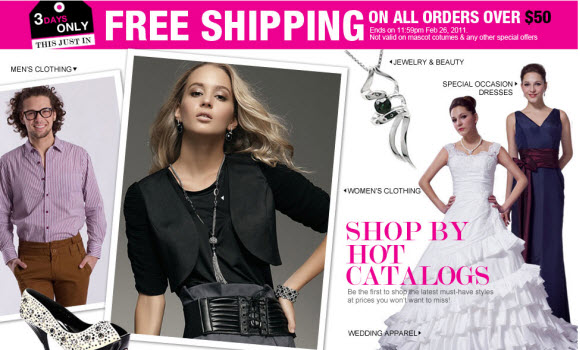 As a shining star in the arena of wholesale fashion shopping, Milanoo.com always provides very low wholesale prices for all its products and launches all kinds of promotions frequently. This time, the online wholesale shopping website uses the free shipping offer to promote its products for 3 days only. Based on our record, it seldom offers free shipping on orders of such a low minimum value. The China-based wholesale company seems to have gone crazy!
Anyway, whether you are a regular customer of Milanoo.com or a new buyer looking for best priced fashion items, seize the free shipping offer before it's gone!
Note: This offer does not apply to mascot costumes or other special offers available at Milanoo.com
Leave a Reply