Aliexpress.com is offering a big holiday sale for small businesses from October 15 to October 21. To kick off the site's first Christmas promotional campaign of the year, the products on-sale are now offered with huge discounts plus extra values based on a certain threshold of order values. Minimum order quantity (MOQ) required is as low as 1 piece only. For the majority of products there, you can get the super low wholesale prices with great discounts for a single order of less than 10 pieces.
If you are a merchant of a small or medium-sized store, don't miss out this amazing opportunity to stock up on high-margin Christmas supplies for your inventories. As they advertised, with up to 60% off, now the margins are as high as 300%!
The Aliexpress Christmas 2012 sale offers discounts mainly in three forms:
Huge discounts on specific products. The prices you see are already slashed down by a detailed discount. You can also compare their current prices with their original prices so that you can 'feel' exactly how deep the discounts are.
Fixed discounts store wide. Each on-sale category page lists a number of stores which are selected to join this promotion by Aliexpress.com. Each store offers a fix discount on a certain order value threshold, e.g. $15 off per $100 or more.
Extra discounts based on a certain order value threshold. This type of discounts is offered by the site instead of by the suppliers. When your order value reaches the designated threshold, you can input the coupon code indicated on their homepage top banner at checkout to get the extra discount. For October 15, you can get an extra $10 off $150 or more by using the coupon code "christmasone".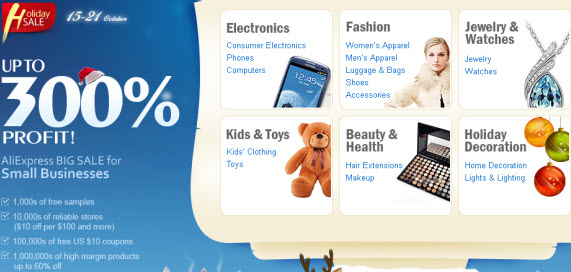 Being a wholesale transaction platform, the site carries an extremely extensive range of products for all kinds of needs, including apparel & fashion accessories, electronics, automotive, luggage & bags, home & garden, sports & entertainment, toys and much more. The current promotion covers only a small part of the products offered by their sellers, which are well selected in terms of product quality, seller credibility and margin space. The major categories chosen for this sale are: electronics, fashion, jewelry & watches, kids & toys, beauty & health and holiday decoration. Under each major category, you can find two or more sub-categories so you can further narrow down your search.
Note that the discounts or coupon values for each category vary from each other. Here list the details about the offers under each category:
Starting at 30% off
Free samples
$50 off per $300
$120 off per $300
Starting at 50% off
Free samples
$10 off per $100
$20 off per $200
Starting at 40% off
Free samples
$15off per $100
$60 off per $300
Starting at 35% off
Free samples
$60 off per $200
$20 off per $200
Free samples
$20 off per $200
Starting at 35% off
Free samples
$60 off per $200
Leave a Reply