Yesterday I read from the news that the English site of 360buy.com (Jingdong Shopping Mall in Chinese) has gone live. This means the Chinese online retail business leader has started their journey to grab the global market share. Through the international site http://en.360buy.com/, buyers around the globe can shop for quality-guaranteed and low priced products from the company in an easy way.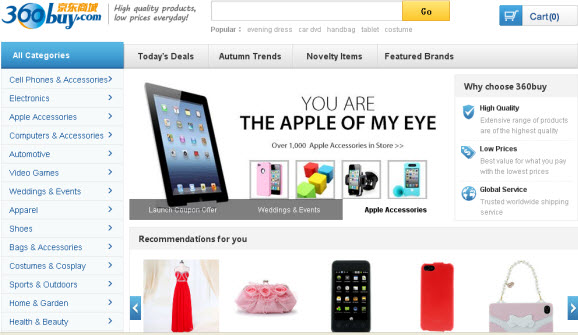 After this famous Chinese online retailer officially joined the foreign trade arena, the competition among online Chinese international shopping sites is surely getting more and more intense. Today we are witnessing a robust growth of Aliexpress.com, Lightinthebox.com, Milanoo.com, Dinodirect.com and a few more big names on the global markets, who are enlarging their customer bases as well as enhancing their international reputation by offering quality and reasonably priced products. At the same time, they are endeavoring to perfect their service standards in order to attract and keep more customers.
As far as I am concerned, given the current Chinese foreign trade milieu, quality and pricing make little difference among the big companies but service levels matter a lot, separating the better sites from the poorer ones.
Although 360buy has built a positive image among the Chinese consumers by providing prompt and helpful service, it is hard to say whether they will do the same good to the global buyers as they are after all lacking the experience in serving people with alien cultures. Anyway, I believe this powerful company deserves our expectation.
About 360buy Group
Founded in 1998, 360buy Group has make great achievements in the Chinese domestic online retail business. Based on the report, they have a 51% share in China' self-run B2C market. The firm attained their first success from selling electronic or digital products, including cell phones, TVs, computers, shavers, camcorders, cameras and much more. They are constantly enlarging their product line in recent years, adding books, home & garden, food and beverage, automotive parts & accessories, sports & health, jewelry & watches, shoes, bags and lots more to their directory.
I myself am a regular customer of 360buy, purchasing commodities frequently from the site. In addition to solid quality and low prices, I am quite attracted by their satisfactory service. Compared with most sellers at Taobao.com (China's biggest B2C transaction platform, belonging to Alibaba.com) I've traded with, 360buy.com can better assure me in terms of after-sales services so that I can shop confidently with them without any concerns. Besides, so far I haven't got any quality problem with the products I purchased there. I would rate them 4.8 out of 5 based on my own shopping experiences with the company.
As for me, although they have significantly enriched their categories, their only disadvantage is still that their product range is not so vast and as a result sometimes I can't find what I want there and have to then use another site (e.g. 1haodian.com or Joyo.com) for my shopping plans.
I notice that their international channel is a little bit different from their Chinese main site in terms of category types. The English site spotlights Wedding & Events, Apparel, Costumes & Cosplay and Apple Accessories, all of which are the most competitive categories of made-in-China products. You can also see these categories highlighted at other popular China-based online stores like Lightinthebox.com, Aliexpress.com, Milanoo.com or Ahappydeal.com. Again, I would suggest you compare prices between these sites when you find a product available at any of the sites.
One Response to "360buy Has An International Site"
Leave a Reply