Before I noticed the video about SoPhone on YouTube, I had believed that HiPhone 4 was the best iPhone 4 clone. I instantly realized I was wrong after I finished watching the demo. I was shocked by the powerful features and performance of SoPhone. Then I searched the Internet for more detailed reviews of SoPhone, and got to know that SoPhone is the widely acknowledged top iPhone 4 knockoff of 2010. Anyway, what exactly makes SoPhone the closest handset to iPhone 4? If you are on the edge, read on to learn more details.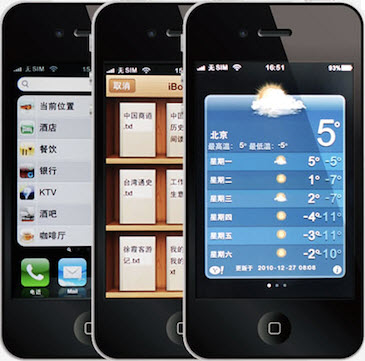 Specifications of SoPhone
On the first look at SoPhone, you won't find any difference between SoPhone and iPhone 4. Obviously, the best iPhone 4 clone SoPhone completely copies the external look of the original. Even their sizes are the same. Any case for iPhone 4 will fit SoPhone equally well.
SoPhone is GSM-based and comes with some of the key features of iPhone 4. Its interface can hardly be distinguished from iOS. It supports WiFi, Bluetooth and FM radio. Also, it has got folders, multi-tasking, Spotlight and Springboard pages, volume/silent overlays, Apple's icons, menus and a lot more. A huge pro to the Sophone is its removable SIM card and 1400mAh battery.
Of course, if you look closer, you will find that SoPhone is nowhere near the iPhone 4 in the following specs: no real iOS, no retina display, no micro SD card slot, 2 MP front and rear dual cameras, a MTK6235 chipset, only 4 GB of flash storage, etc.
Performance of SoPhone
When it comes to the performance of SoPhone 4, though many reviewers claim that it runs "very fast", I will never believe that it is as fast as the real iPhone 4. But obviously, among all made-in-China cheap iPhone 4 knockoffs, SoPhone is definitely the fastest. With a 3.5-inch (480 X 320 resolution) capacitive touchscreen, SoPhone is also deemed as the most responsive among its competitors.
Overall, SoPhone is not as fast or responsive as iPhone 4 and lacks the polish of the latter, but it is strikingly identical to iPhone 4 in every possible way. It exceeds all other best iPhone 4 clones in terms of build quality, features as well as performance.
Prices of SoPhone
If you purchase direct from a Chinese SoPhone supplier, it generally costs you 1380 Chinese yuan (about $209). This also explains why SoPhone is all the rage among global users as it is offered at less than half the price of original iPhone 4. Even some real iPhone 4 owners buy SoPhone out of curiosity or fun, trying to see what the differences are between the two mobile devices.
Given the convenience of online shopping, now people don't have to visit China to purchase SoPhone. A number of China-based international online shops offer the handset at slightly different prices. Below are some of the well-known Chinese online shopping websites where you may find the best iPhone 4 clone SoPhone. Before you make the purchase, make sure to compare the prices and other value-added services that may help you cut the cost, e.g. free shipping.
Image courtesy of Google
Tag: AliExpress Wholesale Mobile Phones
4 Responses to "Review of Best iPhone 4 Clone SoPhone: Specs, Performance and Prices"
Leave a Reply