A research about the connection between women's psychology and high heels shows that women will wear high heels as long as 51 years in their whole life. High heels are thought to be a great addition to add some height to women's legs and make them look slimmer and sexier—this can greatly increase women's confidence. Naturally, for the sake of beauty, women's obsession with high heels will not be weakened in any season.
From some fashion magazines and China wholesale websites such as DHgate, I learn that the up-to-the-minute styles of high heels have some new trends this year.
Heel Height
This year, high heels are designed into the higher and thinner ones, meanwhile, more delicate. It seems that more and more women sing high praise for super high heeled shoes which are as high as 4 or 5 inches. However,according to the analysis of some experts,the ideal heel height for most women is 2.5 inches. No matter how fabulous the super high heels are,heels that are too high may cause some foot diseases. Actually, doctors have suggested that women should wear high heels and low heels or flat shoes alternatively to keep foot healthy.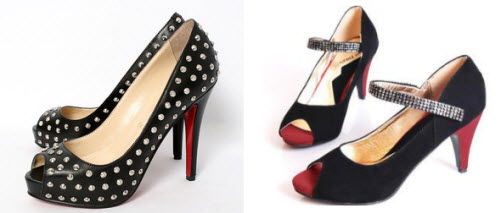 If you are searching a kind of high heels of comfort on DHgate.com, maybe you can try "tapered-heel shoes". The upper part of the heel is wide,yet the bottom becomes thin gradually. Unlike super high heels, this style of heels is not very high. Wearing this style, women won't feel it a sweat to walk around for a long time.
Diverse Styles of Heels
To choose a pair of fabulous high heels, women will consider not only the shape and fabric, but also the style of the heels. On account of the limit of technology and fabrics, the heels of early high heels can just be shaped as funnel, but nowadays, women have extensive choices of high heels of all styles which are the cutest you've even seen. For example, for the following gorgeous high heels available for wholesale on DHgate.com, I am much impressed by the exclusive quality and styles amazingly distinctive from the traditional ones,such as crystal heels, wedge heels, leopard grain heels, just for your selection.

Embellishments on High Heels
High heels designers are always working on individualizing high heels creatively. In fact, most of them show their unique ideas by adding the embellishment to high heels. The most familiar embellishments such as cute bowknot, black lace, tassel and cascade flowers endow high heels with different characteristics. Maybe cute-looking girls or petite women will tend to draw more attention to the following styles, which are among the bestsellers this year. This style of high heels' main embellishment is cute bowknots and most of them are bright-colored. By wearing such a pair of high heels, women will look more lovely and elegant.

Leave a Reply