Thanks to the fast development of Internet technology, now shopping directly with an online store far away from our locals becomes unprecedentedly easy and convenient. In particular, many store owners and individuals love to buy stuff from China-based online shopping sites such as DHgate.com, mainly attracted by the super low prices and the huge varieties of products to choose from. However, China is traditionally regarded as a lack-of-credibility shopping destination – when people decide to shop there, concerns for safety arise only naturally.
As a Chinese, I would like to re-emphasize that the majority of Chinese shopping sites are trustworthy, trying to earn decent revenues through and honest business. Nevertheless, I always encourage you to use extreme caution when looking for a reliable Chinese store to shop with, especially when you never bought anything there before. While general rules apply to all Chinese stores when it comes to safe online shopping, you may still figure out what are the major concerns about a specific store. That way you will be best protected from being scammed. This post will focus on talking about the most common concerns about DHgate.com and the tips on how to stay safe when using the site for shopping.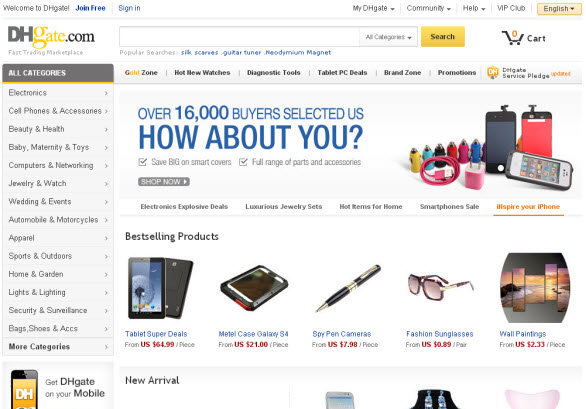 Is DHgate.com a legit site?
Founded in 2004 by Diane, Wang, DHgate.com is similar to Aliexpress.com in terms of business model. Different from the store-type shopping websites such as Lightinthebox.com or Focalprice.com, DHgate.com and Aliexpress.com are transaction platforms for small and medium-sized merchants, providing services for both buyers and sellers. There you can trade with the registered sellers and the whole transaction process is under full inspection of the website. The payment you make for your order won't go to the seller directly. Instead, it will be sent to the account of DHgate.com first and after you receive the goods and confirm everything is okay, they will release the payment to the seller on your behalf. In the case that a dispute happens between you and the seller, you can use their dispute system to protect yourself.
With 9 years experience in cross-border transaction service, DHgate.com is a tested legit company with head offices located in Beijing, the capital of China. Their business is growing and their service is being constantly improved. In recent years, we see they have been making great progress even though their war against the powerful competing sites like Aliexpress.com is never an easy one.
What kind of benefits can I get if I shop at DHgate.com?
The best thing for choosing a wholesale trading website like DHgate.com to source products is: it is much more likely to find the lowest prices for the items you want. Within the same website, you have countless suppliers to choose from and as a result you can compare prices and store credibility to seek the best ones. Since most sellers doing business at such sites focus on wholesale orders, they tend to offer a much lower wholesale price to attract customers, though sometimes they may require a small MOQ (=minimum order quantity) like 3-10 pieces per lot.
How can I avoid scams at DHgate.com?
Checking the feedback profile including feedback score, customer ratings and customer reviews of the sellers or the specific products is not only necessary, but also extremely helpful for selecting a reliable supplier at DHgate to shop with. It is not a secret that many Chinese international sites only publish the good reviews or neutral reviews posted by the real customers while withholding the negative ones using the moderation function. On the other hand, based on my knowledge, they seldom create fake good reviews on their own as it is way too difficult for them. Buyers from English-speaking countries can easily recognize whether the reviews are genuine or fake simply from the language. Though some sites may hire some English native speakers, rare people are willing to do the nasty job. When I worked at DHgate.com, my native-English-speaking colleagues were mainly positioned in the PR department or the marketing department, handling work like social networking marketing, blog marketing or forum marketing.
Also, just in case you might encounter a dispute with a seller there, I would like to remind you never to trust the words of the seller and follow his or her words to solve the problem. That way it would be much more risky to get cheated and consequently lost your money. Do remember to open or submit a dispute based on the timelines indicated in the DHgate dispute policies and then do everything based on the instructions of the DHgate service people.
Finally, it is important to be aware of the fact that only transactions made through the DHgate.com system will be inspected and protected by the website. If you are attempted by the sellers to trade with them bypassing the website for lower prices, you will have to bear all risks. Based on the customer reviews, if a seller asks you to buy from him or her outside of the DHgate.com site, it usually turns out that he or she immediately disappears after you make the payment. For such scam cases, the site has no way to help you out.
Should I trust the negative reviews of DHgate.com?
Discussions about DHgate scams, DHgate complaints and other negative reviews against DHgate.com can be easily found on the internet. Just like any other China-based online trading platforms, DHgate seems to have lots of complaints despite that the company is very famous not only among the Chinese foreign traders but also among global buyers, especially those small business owners. The following reasons may mainly account for such phenomenon:
1. The site has a very large customer base and is being heated discussed among the users;
2. As a service provider who has to give a final ruling based on evidence when a dispute is incurred, DHgate tends to be blamed for not being fair by the 'victim' side. That is, if DHgate supports the seller, the buyer will be unhappy and vice versa.
3. It is a general rule that while unhappy customers like venting their dissatisfaction with a shopping site or a product in order to destroy the fame of the site or to warn other buyers, happy customers, on the contrary, usually stays quiet and won't bother to spread the word about the pleasant shopping experience they've got with a certain online shop. Just try seeking negative reviews of any Chinese store, you will find that I'm not exaggerating.
My advice: some of the negative reviews against DHgate.com may be real and are posted by customers based on real experiences, but some can be faked and posted by the competitors of DHgate.com. Just as you read the good reviews, you can read the bad ones for reference only.
One Response to "Most Common Concerns about DHgate.com: Legitimacy, Safety, Scams and More"
CLB Says:
March 31st, 2015 at 7:54 am

DH gate should require that the sellers respond to the consumer if the consumer is dissatisfied with the product. I purchased 2 human hair wigs in February with a sale of over $250 dollars. I did not wear the wigs until 2 weeks after purchase because initially I was home recovering from surgery. The first time I wore the wigs and noticed the poor quality of the hair, the wig matting and tangling within minutes of wear. I made a complaint to DH Gate, sent pictures of the matted wigs.. they closed my complaint stating 7 days had passed and I could not have a refund and to communicate with the seller directly. I emailed the seller in Feb, the seller has never responded to my email. The dishonest scam sellers from China are what make DH gate site get a bad reputation. .. I spent a lot of money and cannot return the product or get a response!!
Leave a Reply