I noticed that the China-based online fashion shopping site has launched its 2.0 edition. More advanced functions have been added to the website and a refreshing image of Milanoo.com is presented.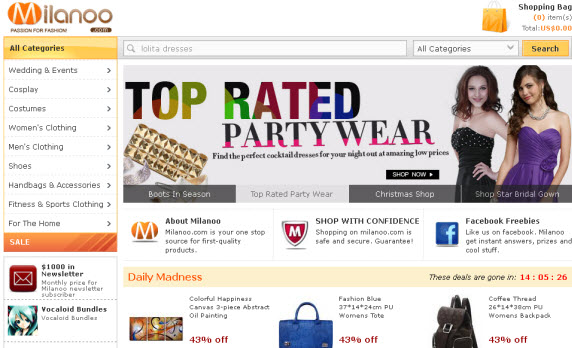 The overall layout of the Milanoo.com site has been changed quite significantly. Now the category navigation area has been moved from the top to the left. When you move your mouse over each category, a side menu of related sub-categories will be shown and you can click any of them to visit the exact category you are interested in. Banners are still located in the top middle section, although their sizes have been tailored a little bit. Like before, you can find the hottest promotions of Milanoo.com from the big banners.
Under the banners, a new section with introduction to the integrity and credibility of Milanoo.com has been added. From the section you can learn some detailed information about the online shop, including its company info, shopping security, customer feedback and more.
Following the new section is the Daily Madness zone, which is far more highlighted than before. Six items from the zone are displayed there with specific discounts and prices. If you want to view more deals that last for one day only, just click the Shop All Deals button. The New Arrivals zone and the Best Sellers zone are placed right below. Each of the zones has four items shown on the homepage. Likewise, if you want to see more new arrival items or best-selling items, click the Shop All Deals button.
At the bottom of the Milanoo.com homgepage, you can find Milanoo SNS website buttons: Facebook, Twitter, YouTube and Milanoo blog. Besides, other information about Milanoo is presented, including the detailed category list, hot products, popular searches, contact info, shipping & returns and more.
It is said that the search function of Milanoo.com has been greatly improved too. Just by entering what you want in the search box, you will be directed to the exact page with related products.
Leave a Reply