I got a deal alert email from Milanoo.com and was informed that their Halloween shopping season has started. As they stated, this promotion will last from September 1 to October 31. If you are looking for Halloween supplies from Chinese online shopping market, this offer is worth taking a look. Early-bird shoppers may catch the never-come-back-again great deals!
During the Halloween 2012 promotion period, various specials will be launched by Milanoo.com on a variety of products, such as Halloween costumes, wigs or other Halloween supplies. As a store specialized in selling made-in-China fashion products, Milanoo is particularly known for their vast range of costumes, including cosplay costumes, Lolita dresses, catsuits & zentai, dance costumes, sexy costumes, kids' costumes, pet costumes, steampunk clothing, royal costumes and more. For Halloween shopping, you can find scary Halloween costumes, funny Halloween costumes, zentai Halloween costumes, catsuit Halloween costumes and cosplay Halloween costumes.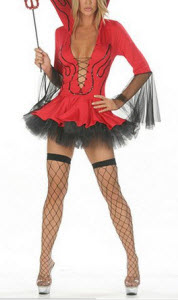 Deep discounts will be available so if you plan to shop for any Halloween products from China, don't miss out this opportunity. Based on our knowledge, Milanoo is one of the best Chinese online destinations to buy Halloween costumes or Halloween supplies, among other great options like Lightinthebox.com (costumes and wigs) or Aliexpress.com (costumes, wigs or any other Halloween supplies). FTCline.com is very similar to Milanoo.com in terms of product varieties and styles and they also have an amazing variety of Halloween costumes and accessories to choose from too. However, FTCline is far less famous than Milanoo. Besides, their prices are not as good as the latter. That is why I always recommend Milanoo when it comes to purchasing costumes from Chinese suppliers: they are a big name on the global market and their pricing is fairly reasonable.
For the Milanoo Halloween 2012 sale, free shipping is honored for orders of $99 or more. When your order value reaches the threshold, you can enter the coupon code MILANOO-FS to get the free delivery service at checkout. As Milanoo grow quickly in recent years, they no longer offer free shipping on any order sitewide, which was a promotional incentive used to attract more customers when they started up. Instead, they offer free shipping based on order values from time to time as an extra value added to other promotions.
Below you will also find several latest coupon codes launched by Milanoo.com in Septermber. Do remember to use the code to further reduce your cost!
End Date: Sep. 6, 2012
End Date: Jan. 1, 2013
End Date: Dec. 31, 2012
End Date: Dec. 30, 2012
End Date: Dec. 30, 2012
Here are some of their bestsellers in costumes:
Images courtesy of Milanoo.com
Leave a Reply