A regular visit to Light In The Box indicates that there is a corner exclusively reserved for all kinds of wedding apparel. On the right side of the China wholesale website homepage, you can see a banner about wedding apparel permanently positioned there–actually the specific ads and images are updated from time to time, but the theme is the same. Compared with other main banners at the middle top, this banner may be not so visible, but this special promotional area is rather big in size and is always used to show eye-catching ads about wedding apparel. From this, I guess wedding apparel must be one of the best-selling items the wholesale company offers.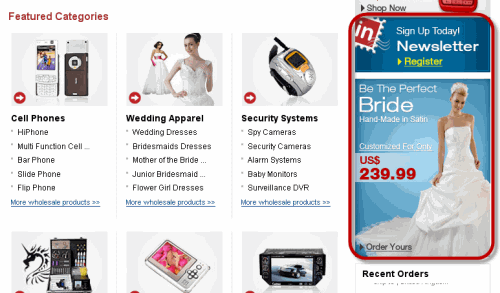 Businessmen specializing in apparel especially in dresses wholesale or retail must know that China is a great market to source good-quality but low priced wedding apparel. In Hangzhou, where China's biggest B2B company Alibaba is located, wedding apparel is abundant not only in quantity, but also in styles. The city has a great number of wedding apparel factories–it is said that Hangzhou is the largest wedding apparel manufacturing base in China. Also, some other cities like Shenzhen and Suzhou contribute a lot to the wedding apparel industry of China. It is very likely that wedding apparel being sold on LightInTheBox mainly comes from these cities. As we have mentioned in previous posts, LightInTheBox features a double-check system on all items for sale. So whether you are a wholesaler or a retailer who wants to buy wedding apparel from China, you can consider LightInTheBox as wedding apparel is clearly one of the hottest-selling items there–the quality and the price cann't be bad.
To know the details, just go visit www.LightInTheBox.com and take a good look!
One Response to "LightInTheBox's Exclusive Corner for Wedding Apparel"
Lightinthebox Wedding Dress Collection for Spring 2010 « China Wholesale Reviews Says:
December 27th, 2009 at 9:02 am

[…] for spring 2010, Lightinthebox has more beautiful styles of wedding dresses to choose from in its exclusive corner for wedding apparel. Click to view more well designed wedding dresses for spring 2010 […]
Leave a Reply