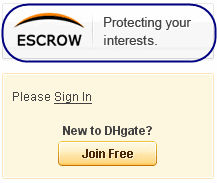 When it comes to online trading, for most traders, the first and foremost concern lies in the safety issue. Yes, sourcing items from China wholesale marketplaces is the best way to save money on stocking up, but it would be equally frustrating if a buyer encounters scam in online trading.  And DHgate, the leading China wholesale website, is definitely well aware of the concern rising from all buyers. To ensure buyer's confidence in trading on DHgate, they offer a particular service to protect buyers' interests: Escrow payment service.
What is Escrow?
Escrow refers to a third-party payment system in which the buyer pays his/her money to the Escrow agent'(in this case DHgate) and the agent will hold the payment until it confirms the buyer's safe and satisfactory receipt of the purchase goods. That is, DHgate won't release the money to the seller before it gets the confirmation that the buyer has successfully received the purchase item(s) and is satisfied with the order. In this way, buyer's interests can be well protected and buyers don't need to worry about their money's safety. With the Escrow payment service, the risk of falling into traps set by sellers is reduced to the minimum. DHgate as a trading marketplace inspects the whole transaction process including the payment process. So buyers can be confident in placing orders on the website.
How buyers are protected:
DHgate tracks the shipped item(s) and confirms if it is successfully delivered to the buyer.
If a dispute occurs during the transaction process, DHgate will act as a third-party coordinator helping buyers and sellers solve the problem.
The payment will be released to the seller only after DHgate gets the confirmation from the buyer that the merchandise is successfully received and in condition as described.
For more information, you can go visit DHgate.com.
Leave a Reply