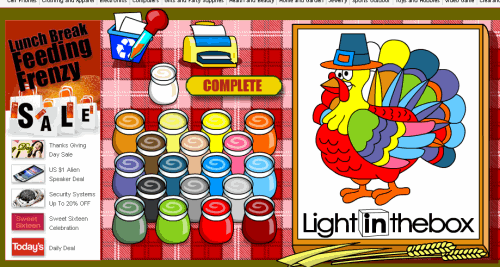 Finding a great deal is a game itself, and Lightinthebox has taken this concept a step further with the Lunch Break Feeding Frenzy. For a limited time only, you can get a $5 coupon by playing a Thanksgiving Coloring Book game at Lightinthebox.com.
The game is easy and fun. Just choose any color from the variety of dyes, and click to paint any part of the turkey. After you fill every part with the color you like, click "complete" and a $5 coupon for lightinthebox will become yours!
On this game page, you can also check out free shipping deals, the daily deal and huge discounts running now such as:
The game is pretty addicting (we've been caught coloring for quite a while ourselves). Please note that this coupon offer ends in November 30th, so please don't forget to check out the amazing deals!
LightInTheBox Lunch Break Feeding Frenzy! Play a game, receive a coupon! FS and Great Discounts as well.  Shop now!
Leave a Reply