Currently Lightinthebox.com, the famous China-based online store is celebrating its 7th anniversary with a series of promotions. The first round of celebration has ended with a number of products liked by over 777 customers, which means they will be available at 90% off. The final prices for the liked products have been revealed on the promotional page but they can only be purchased from March 17 to March 20, 2014. Since each 90%-off product for this promotional activity is available in a very limited quantity, buyers have to seize the rare deals as soon as the sale begins – they are surly to sell out quickly.
Now the second round of the 7th anniversary celebration sale of Lightinthebox.com is on the go. From March 15th at midnight (00:00 PDT) through March 16th at midnight (23:59 PDT), Lightning Coupons are put on sale every three hours. You can purchase limited quantities of Coupons worth USD $20, USD $10, USD $5 for as low as USD $1 each,or Coupons worth USD $30, USD $20, USD $10 for as low as half price. Besides, a Lottery Coupon worth $100 will be rewarded to the first person who places an order for 'Lightning coupons' at the start of each round. Please not that the Lightning Coupons can only be redeemed between March 15th at 00:00:00 PDT and April 15th at 23:59:59 PDT.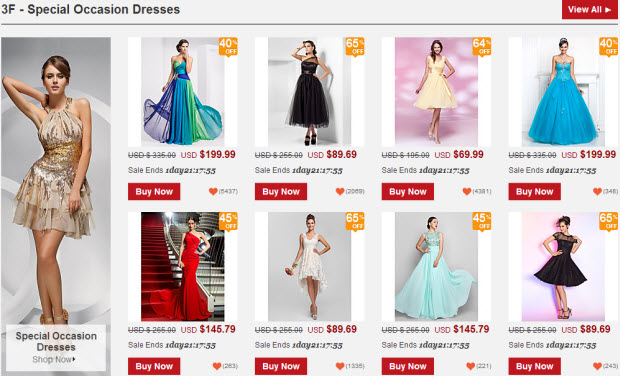 Image courtesy of Lightinthebox.com
If you are worried that you can't grab the deals with 90% off on March 17 because of the very limited availability, you can consider the on-going deals which can be purchased now though with a smaller discount. There are all together 13 floors of on-sale products categorized neatly at the promotional page. The first floor, for example, is a Flash Sale with deals of 75%-85% off on a selection of hot-selling fashion and accessories.
Deals listed at the rest floors cover categories including women's clothing, special occasion dresses, fashion accessories, shoes, men's clothing, home and garden, electronics, mobile phones & tablets, health and beauty, toys & hobbies and sports & outdoors. These deals can be purchased with 30% to 70% off. All the on-going deals for Lightinthebox.com 7th birthday will last till the end of March 16. Compared to the 90%-off deals, these deals are available in a much larger quantity. As long as you place the order before the deadline, you don't have to worry that they are sold out after you make the payment.
At the same time,  Miniinthebox.com,  the exclusive channel of Lightinthebox.com for cool gadgets,  is also celebrating the 7th anniversary with a super sale. Click here to see details.
Leave a Reply