The 2014 April Fools' Day is coming soon. However, I was quite surprised to find that rare Chinese stores have launched April Fools' Day sales. It seems unusual as most Chinese merchants would have already released April Fools' Day deals at this time of the year in the past. Anyway, now I have spotted only one China-based store offering deals for the happy day: Banggood.com, a rising store best known for selling quality electronic gadgets, clothing, RC toys and more at highly competitive prices.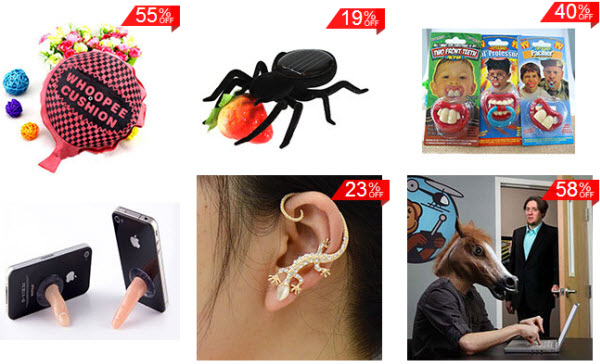 Based on my experience, the majority of Chinese stores won't offer a huge selection of deals for April's Day deals because of stock availability as well as holiday popularity. Comparatively, it is never a significantly important sales boosting opportunity for the sellers. With up to 58% off, the Banggood.com 2014 April Fools' Day specials are also quite limited in terms of variety. There are all together 52 on-sale items to choose from, which are sorted into four categories: trick toys & gadgets, funny gadgets for kids, funny clothes & accessories and other special offers. If you are still scratching about 2014 April Fools' Day ideas, you may get some inspiration there.
Though people may not have great shopping passion for April Fools' Day, I still believe that deals offered for this holiday are worth taking if you are running a store offering cool, weird or novel products. The discounts can help slash down you cost, which means you will earn more profits. So what not take a look?
Leave a Reply