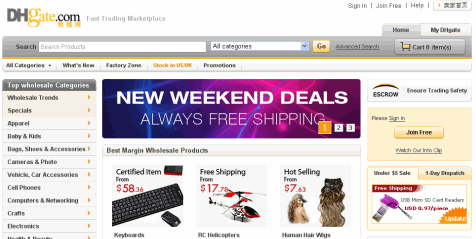 When you visit some e-commerce or B2B forums or communities, you will find that some people are questioning whether DHgate is a legit company or not. It is completely understandable—after all, it is always smart to make sure whether you are buying from a trustworthy website, especially when it is far away from your country or region. As a reviewer dedicated to doing research on the most famous China wholesale websites, I can ensure you that the China-based B2B website DHgate is 100% legitimate. Here are some points that can support my opinion:
1. DHgate was founded in Beijing in 2004 and has been enlarging its base of global customers very rapidly. Now the company owns about 2.1 million buyers from over 230 countries, 400,000 Chinese suppliers and 20 million product listings covering a huge range of item categories. A website with so many registered members all over the world is no doubt run by a legit company.
2. The founder, also the CEO of DHgate.com Diane Wang, was the former CEO of the famous China-based B2C e-commerce website Joyo.com, which was acquired by Amazon.com years ago. Is there any possibility that such a successful woman runs an illegitimate company? Of course not. In China, Diane Wang enjoys a high reputation in the e-commerce field and is regarded as the ambitious and brilliant woman who dares to challenge Jack Ma, the founder of Alibaba.com.
3. Since its commencement, DHgate has received all together three rounds of investment by some world renowned investors. A few days ago, in March 24, the China wholesale website just made a joint announcement with Warburg Pincus ("WP"), a powerful PE investor, that the two sides officially built the cooperative relationship. Also, DHgate's previous investors KPCB China and JAFCO Asia continue their investment into DHgate by taking part in its third round of financing. Altogether, this time DHgate received an investment of RMB200M, which is the largest-ever investment in the e-commerce arena in China. We are not idiots, neither are the investors—they had certainly evaluated the value of DHgate thoroughly before they decided to invest the big money! Clearly, only a legitimate company can win the trust and investment from these VC giants.
4. Other facts about DHgate.com
DHgate is PayPal's largest client in the Asia-Pacific region.
DHgate was the recipient of "Deloitte Technology Fast 50 China 2008", ranked 7th.
DHgate was the recipient of "Deloitte Technology Fast 50 China 2009", ranked 5th.
DHgate was the first wholesale e-commerce collaboration for shipping giant, UPS (NYSE: UPS) in China.
The most influential Chinese media institutions have been paying more and more attention to DHgate, including CCTV, Sina.com, Qq.com, Southern Weekly, etc. Reports, TV programs or special interviews about DHgate come one after another, at a shocking speed.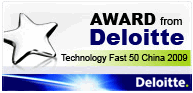 So, do you think DHgate is a legitimate company now? If you need more information about the website, read our DHgate Reviews column or visit www.dhgate.com.
6 Responses to "Is DHgate a Legit Company?"
Leave a Reply