Based in Guangzhou, China, the home to tons of electronic gadgets, iDealHere.com is another popular online shop offering wholesale gadgets to the world, including motorcycle fairing and other motorcycle aftermarket parts, cell phones & accessories, fashion products and more. This iDealHere review is meant to introduce all the must-know basics about the online China wholesale shop. If you are interested in buying cheap wholesale gadgets such as motorcycle aftermarket parts from China, this review may be worth reading.
Based on our research, iDealHere.com was founded in 2007 and has grabbed a remarkable market share around the world. By selling a wide range of products at unbelievably low prices, iDealHere has established a trusted name among a great number of resellers, store owners and individual shoppers from all over the world. The company has a proven record of doing serious business for years so you can be confident that trading with iDealHere.com is safe.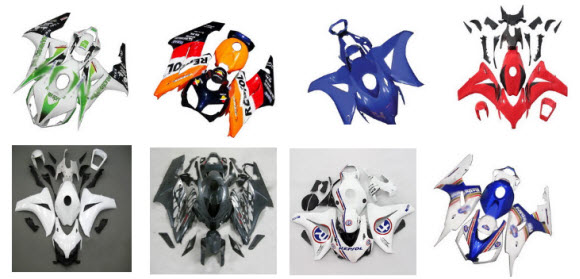 Motorcycle aftermarket parts seem to be the major product line at iDealHere. We learnt from the many iDealHere reviews that motorcycle fairings offered by iDealHere are particularly hot-selling and have earned lots of positive ratings. In the exclusive zone of Motor Fairings on the iDealHere.com site, you will see a large selection of motorcycle fairings for various models of top-brand motorcycles including Honda, Kawasaki, Suzuki, Yamaha, Ducati, Triumph, MV Agusta, BMW and Aprilia.
However, it does not mean that iDealHere is simply a supplier of motorcycle aftermarket parts. As iDealHere grows, more and more product categories are being added to its directory. For example, the online store also carries a great selection of health and beauty products such as manicure kits and nail art supplies. Likewise, fashionable dresses that fit various occasions are available there – we noticed that the princess wedding dress inspired by Kate Middleton's wedding gown is now being on sale at iDealHere with a deep discount and free shipping.

Extremely low pricing should be the greatest attraction of iDealHere.com for global buyers. You may wonder why iDealHere is able to offer such low prices on its products. The answers are quite simple in fact. First, being located in one of the world's biggest hubs of wholesale commodities is one of the advantages for iDealHere to lower its prices. The shop always buy direct from manufacturers and get the lowest possible prices; second, iDealHere keeps a large inventory and sources items for its inventory in large bulks from suppliers at better prices. This again enables iDealHere.com to sell products at lower prices; third, the iDealHere warehouse is next to the shipping carriers, thus cutting the costs of transportation.
More Must-Know Basics about iDealHere.com:
Customer Service:
Email: Service@iDealhere.com
Phone No.: +86-20-37329065
Address: Room 417, FangQi Exhibition Center, #9 Gangtou Street, Yuexiu District, GuangZhou, China, 510040
The above iDealHere review is composed based on our research and stands for our own viewpoints about the China-based online shop only. If you have more ideas or info to revise or complete this iDealHere review, please leave your comments below. We are open to suggestions!
2 Responses to "iDealHere Review: Basics You Must Know before Shopping from the China Wholesale Shop"
Leave a Reply