Since iPad 1 and iPad 2 revolutionized the PC world, tablet PCs have become increasingly popular among high-tech gadget geeks. However, as iPad is not commonly affordable, some tablet PC fanatics may get embarrassed by a shy wallet. As a result, cheap Chinese branded tablet PCs designed and produced by reliable and reputable Chinese brand turn out to be great alternatives. This post will introduce some famous Chinese brands in consumer electronics who offer quality tablet PCs at reasonable prices. If you are interested, just read on to learn more details.


The easiest way to shop for cheap Chinese branded tablet PCs, based on our opinion, is to simply check out the Premier channel of AliExpress.com, where you can find a number of top Chinese brands offering wholesale tablet PCs. The AliExpress Premier zone was officially launched upon the 1st anniversary of the wholesale transaction platform. So far we've found quite a range of popular Chinese brands in various fields there, including apparel and fashion accessories, consumer electronics and more. Having been verified by AliExpres before joining the Premier channel, all these brands have legal trademark rights and sell their products direct to global buyers through the AliExpress platform.
Buying from any of the brands in the AliExpress Premier zone will not encounter any fraud issue as every item there is guaranteed authentic. If you do get an item that is fake or not produced by the brand owner, you will get a refund 3 times the value of the order.
AliExpress.com organizes promotions on a certain type of products from time to time in the Premier channel. And we noticed that recently it has launched a big sale on cheap Chinese branded tablet PCs that are developed and manufactured by some leading Chinese brands, including RAMOS, Teclast, ONDA and Smart Devices (SmartQ). Each of the brands offers significant discounts and/or free shipping on some great styles in tablet PCs.
The after-discount prices for the tablet PCs on sale range from $49.99 – $349.99 so that you can easily choose a desired model based on your budget. In addition, MOQ is as low as I piece only. This means you can even get a single table PC at a low wholesale price. As a general rule, pricing is an indicator of the standards of features, performance and quality of the tablet PCs. So if you want a tablet PC with more advanced features and better performance as well as higher quality, you may have to invest in more money. Of course, if you are just looking for a simple tablet PC that can satisfy some basic needs, a cheap tablet PC should be a better choice. It all depends on your personal preferences!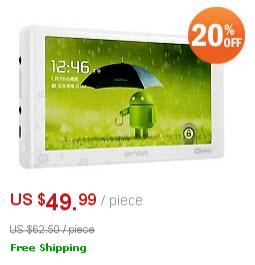 ONDA VX570R 4.3″ Android Touchscreen MID Tablet PCs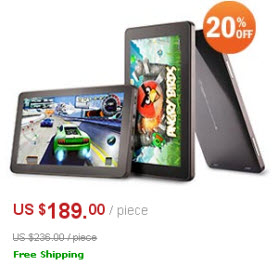 Ramos W10 7-inch A9 CPU Tablet PCs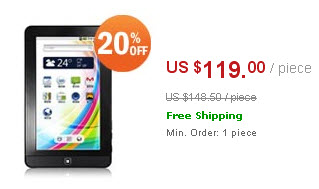 Teclast T720VE Android2.2 4GB 7″ MID Tablet PCs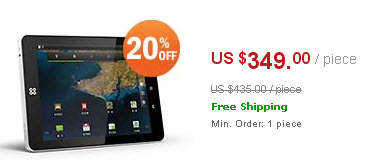 SmartQ T10 9.7″ Android 512MB 8GB ARM Cortex-A9 MID Tablet PCs
View more Cheap Chinese Branded Tablet PCs on sale at AliExpress Premier >>
Images courtesy of AliExpress
Leave a Reply