The quickest way to get help from the China wholesale supplier LightInTheBox, both pre-sale and after-sale, of course, is to find the services offered in the forms of live chat, MSN and email at the right top of the homepage. But there is another place where you can learn knowledge about the China wholesale marketplace and get help from LightInTheBox: the 'Knowledge Base'. To access the 'Knowledge Base' page, you can either choose to click the 'FAQ' button at the bottom of the homepage, or click the 'contact us' button in the 'Need help' box on the left hand side of the page after you sign into your LightInTheBox account.
For the first entry, through the 'FAQ' button, you will see a page featured by 3 areas (from left to right): 'Knowledgebase', 'Knowledge Page' and 'Check on a Request'. Actually in the middle of the page, the 'Knowledge Page' just simply outlines the most interested issues for new users, which are completely the same with the first folder in 'Knowledgebase'. As new users really need a general overview of the China wholesale website before they do business there, we think it quite smart to let the most common questions new users may ask locate in the most important position of the page. On the left, in the 'Knowledgebasebase' box, you will find a search box for asking questions you may be interested in, which will then list you the related results available in the 'Knowledge Base'. Below are a tree index composed of 17 subjects, each of which contains a series of specific questions and answers. By clicking the 'Knowledgebase' link, you will enter into its full page, which clearly lists 8 major subjects with their detailed issues shown in each box.

For the second entry, after you enter into the 'Knowledge Base' page, you will find that the structure of the page is quite the same to what you can see from the first entry: the left is a tree index of 17 subjects and the right is the 'Check on a Request' box. But the middle part is different. There you will see a pre-sale service box and an after-sale service box. Buyers can click any one of the two, and leave and submit inquiries under an adequate category of inquiries. Normally, service staff from LightInTheBox will answer any the inquires within 24 hours.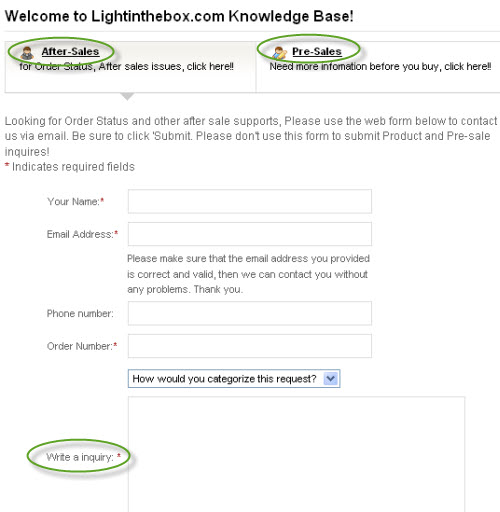 If you need to know more information about the 'Knowledge Base', you can go visit Lightinthebox.com.
Leave a Reply