If you love self-portrait with a camera or an iPhone, you must love the extendable handheld monopods, which are now extensively available online. With the creative product, you no longer need to bed others to take the photos for you. Instead, you can easily take photos in a scene for yourself or for you and your companion just by holding your camera with the extended monopod.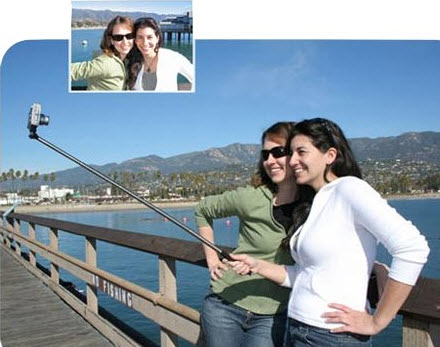 Image courtesy of Eforchina.com
Compared to the traditional tripods, the monopods for camera are easy to carry with lighter weight and smaller volume. When you travel around, you can simply put it into your backpack or handbag and take it out to mount the camera onto it to shoot photographs or videos for yourself. The length of the monopod can be extended to as long as 112.5cm so that you can take photos or videos from more distances or angles. Some monopods are universal for all kinds of cameras and camcorders as well as those high-end smartphones with photo or video shooting function, such as iPhone. However, some may only fit a certain range of models. For this reason you may need to read the product description carefully before you place an order. Don't rush to buy a camera monopod simply because the price is too attractive to resist. You know, you must first of all confirm that it will work for your photo or video shooting gadget. Otherwise, you may get a product that is completely useless for you.
As a typical electronic gadget accessory, portable and extendable monopods for cameras, camcorders or iPhone is usually available at China-based electronic shopping websites. Most of them provide free shipping service as long as you choose the standard shipping method other than expedite shipping methods but not all of them offer this kind of service. So when you compare prices for the made-in-China monopods, do remember to count the shipping fee part in. One thing is for sure, the monopods for sale at Chinese online shops are cheaper than those at world renowned sites like Amazon or eBay.
Below is a list of reliable Chinese international shopping websites where you can buy extendable handheld monopods for digital cameras, camcorders or iPhone:
Again, by "reliable Chinese sites", it didn't necessarily mean that they are free of complaints. Instead, a deeper investigation into any of the sites mentioned above reveals that they have negative reviews, bad feedback or complaints. However, they are truly legitimate China shopping sites which still have much to improve anyway. Also, I would not encourage you to choose by pricing only. Some of the sites are doing better than the rest with better quality products and better customer services while they may offer higher prices for the same or similar camera monopods. It all depends on what matters most to you. For instance, belonging to Lightinthebox.com, which has been recently listed in NYSE, as the exclusive shopping channel for small gadgets, Miniinthebox.com is the exclusive shopping channel for small gadgets at affordable prices. They enjoy better customer ratings as well as higher global popularity and you can be confident in trading with them without worrying about the after-sales issues.
Leave a Reply