Christmas is approaching fast, and you may be still wondering what Christmas electronics to buy for your customers. Then, go no further, here you will find a list of the would-be-hot-selling electronics gifts for the year's biggest shopping season, which you can purchase directly from some Chinese wholesalers at best wholesale prices.
Today shooting videos of happy moments does not necessarily mean you have to carry a heavy camcorder any more. With a mini camcorder, people can make high quality videos anytime and anywhere, which explains why mini camcorders are so hot in the global electronics market. Of course, a lovely mini camcorder can be a decent Christmas gift which will bring a lot of joy to the receiver.
In recent years, digital cameras have been among the best Christmas electronics, and this year, they will sell well like before. Why am I so confident in this trend? My reason is simple: performance of digital cameras is being increasingly improved and styles of digital cameras are becoming richer and richer, but their prices, are going down and down. If people can spend a small money to give whom they love a big surprise, why don't they go for it?
For years, people are trying to develop a device empowered with what a computer has but shaped much smaller than a PC. That is how netbooks were born. Normally, a netbook looks smaller than a PC but bigger than a cell phone–PCs are too big to carry around while cell phones are too small for viewing texts, images or videos. Though the performance of netbooks is not as advanced as that of PCs, netbooks soon won a huge market share as they are much much cheaper in pricing than PCs while capable of satisfying the common needs for PC functions. For example, to create, edit and store files, to watch images and videos, to enjoy music, to name just a few.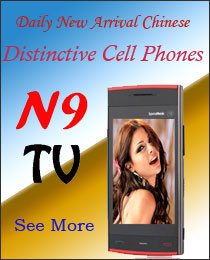 Cell phones have become a permanent topic when it comes to holiday gifts shopping and Christmas is no exception. They are so many featured cell phones to choose from that you may get lost while picking cell phones for the Christmas shopping season. Just take it easy. Think about what kinds of cell phones would attract people most? Appearance may be an important factor, but certainly not the most important. For cell phone users, functions always come first. This year, TV cell phones, GPS cell phones, watch cell phones and WiFi cell phones are expected to sweep the market of Christmas electronics gifts.
2 Responses to "Hot Electronics Gifts for Christmas 2009"
DHgate Christmas Supplies Early-Bird Sale Says:
December 11th, 2011 at 12:13 am

[…] like Christmas trees, candles, Christmas party supplies, Christmas costumes, Christmas decorations, Christmas gifts, etc are all on crazy promotions at […]

Lakshmi Says:
November 20th, 2012 at 9:35 pm

Good list..
Leave a Reply