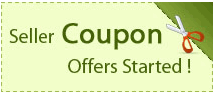 As a transaction platform, DHgate.com used to occasionally offer coupons to their buyers which can be redeemed immediately on an order of a certain amount. These coupons are issued by the China wholesale website itself. Several days ago, I happened to notice that DHgate has launched a new system through which sellers on the website can offer coupons to their customers easily and conveniently, and DHgate calls this kind of coupons Seller Coupons, as compared to the DHcoupons offered by the website.
The DHgate Seller Coupons include 2 types: general coupons and purchase-based coupons. For the former, they are just like the DHcoupons which can be used directly at checkout and get a certain amount of discount for the purchase right away; for the latter, when the order you placed reaches a designated amount, the seller will credit you a coupon of a certain value, which can be used on a next order of a certain amount on items belonging to a designated category.
Click to view more Coupon Codes and Promotions.