A stylish clock can not only tell us the time, but also decorate our home or office. On ChinaVasion.com, we happen to find the following decorative HD spy camera clock. After taking a thorough look at its specifications, we thought it might be a great item for both re-sellers and end consumers.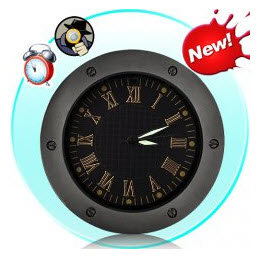 As the decorative HD spy camera clock features a fashionable look and is priced at about $38 or even lower for wholesale orders, re-sellers can get high margins with the item. For individual shoppers, isn't it great to get a lovely clock at such a low wholesale price? Though ChinaVasion is a wholesale electronic website, retail orders are generally accepted too. Of course, the China based online wholesale shopping website offers discounts of various levels based on order quantities. The more you order, the deeper discount you will get from them. For example, if you buy just one piece of the HD spy camera clock, you may have to pay a little more. But you will definitely get a very competitive wholesale price, even for a single-piece order.
On a first look, it's hard to separate the decorative high definition spy camera clock from other ordinary clocks that don't have a spy camera. The more invisible, the safer. When you hang it on the wall of your home or office, you don't have to worry that others may find notice its spy function. As a result, everything will go on naturally as it is supposed to be and the videos made through the spy camera clock will look as vivid as possible. Whether you want to use the special clock to record a party with your friends, or to make a video of what happen during when you are out of your office, the novelty gadget can be a perfect choice.
Key features of the decorative HD spy camera clock:
Surveillance spy camera
4GB micro SD card
USB port
Built-in MIC
Video recording format: AVI
Image capture format: JPEG
Video resolution: 1280 x 960
Photo resolution: 1280 x 960
Continuous recording Time: About 2 hours on full charge
More specifications of the HD spy camera clock >>
Benefits of ordering the item from ChinaVasion:
1. Low wholesale price
2. 12-month warranty and in-house quality control
3. 24-hour order processing and dispatching
4. Responsive customer support
For more details, please visit ChinaVasion.com.
Leave a Reply